[Spa-Francorchamps] – It's the biggest win of Rennsport Onlines history and definitely our entry into the top league of SimRacing! Words cannot express how proud we are on our drivers as well as the team behind this success! Yesterday at around 4 p.m. Tobi, Tino, Stephan, Jake and Alexander took the checkered flag to secure a stunning victory of the official iRacing 24 hours of Spa with our #197 car. Our second contender with Nils, Christopher, Elmar and Patrick rounded up our biggest win so far with another surprising and well deserved ninth position! On the road to victory our drivers outruled some of the biggest shots in SimRacing and set another highlight of Team RSOs short but impressing history!
The official 24 hours of Spa is one of the major events during the year and stands side to side with legendary races such as the 24 hours of Daytona, 24 hours of the Nürburgring, 6 hours of the Glen or the Indy 500. The top teams and drivers of iRacing participate there and make these special events, organized by iRacing themselves, the most competitive races all along SimRacing.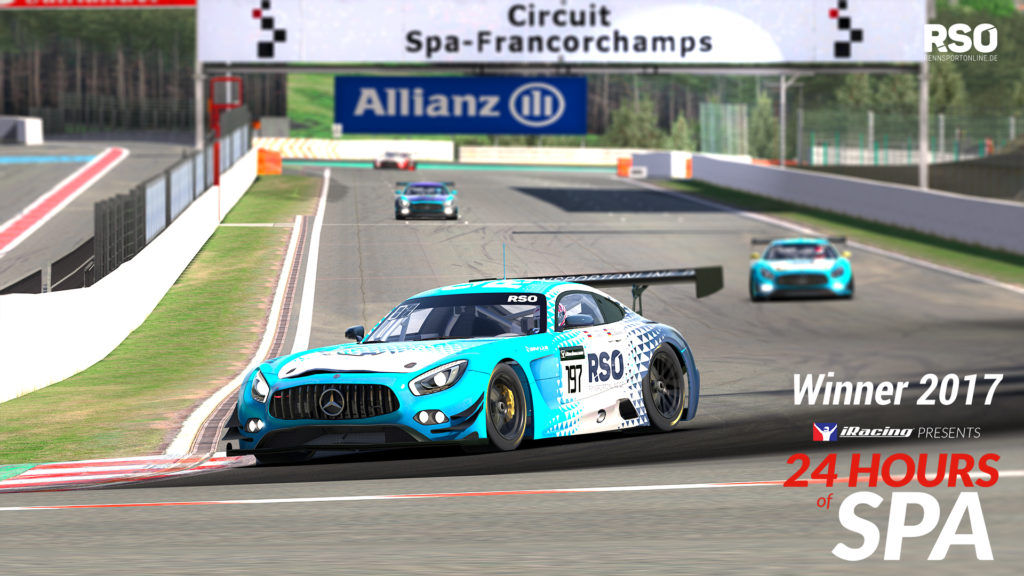 FABULOUS: With the overall win for #197 and another strong Top10 result for #198, Rennsport Online impressivly entered the grand stage of SimRacing
Patience and consistency payed off: there was no weakness
An endurance race is influcenced by various factors which can be summed up in two main categories: race pace and strategy. Therefore, the main focus during the preparations for last weekends 24 hours race was on setup and strategy. We focussed to setup our Mercedes GT GT3 for later track stages when higher temperatures and tyre wear change the conditions for car behaviour. Hence, it was no surprise to our drivers, when they had to handle a tricky and slippery car during the early stages of the race. The more the race developed the better the balance of our cars was. However, during the aggressive start of the race we needed another important factor to our side: luck! During a Turn8 incident caused by a crash of the race leaders, involving several cars and leading to a hughe pile up, we could luckily escape an early damage. Bad luck caught us anyways some minutes later, when a PC crash of Tobi caused a tow to the pits and dropped us back to P40.
Meanwhile our #198 Benz worked his way up the field with strong and consistent pace, putting Nils in the middle of an 8-car-battle for P20, despite they qualified on P45! Patrick and Christopher then continued to put in strong lap times and made up some positions. After six hours we found ourselves on a secure Top20-spot when the night hit the race, at least in reality. Our #197 car stormed through the field with Tino, Stephan and Tobi lapping on the same level like the overall leaders. Thankfully our #197 was supported by two more drivers with Jake Burton (from Trans Tasman Racing) and well known Alexander Voß (from CORE Motorsports), enabling us to better fight through the night. Five drivers behind the wheel meant that everyone had more time to rest. Alexander and Jake did an awesome job and kept the lap times of our #197 on the highest possible level. Parallel to that, our setup started fitting perfectly to the track conditions and helped us to save tires and extend our stints, without a drop in pace. Step by step #197 worked its way back to the leading pack strategywise, too.
---
Things developed well: a podium spot was in sight
When more trouble hit some of our competitors during the morning hours, our #198 was figthing for a Top10 position while our #197 was running within the Top5 already and the podium in sight. All of our drivers were lapping the legendary track of Spa-Francorchamps like a clockwork and began to put our competitors under pressure. With four hours to go, tention rose: Our #197 was sitting in P4 with ten seconds to a podium and 40 seconds to the race leaders of Dream Factory. Tobi now was the quickest driver on track and permanently reduced the deficit to the leaders. Slowly we realized having a true chance to fight for victory. Now the men behind the pit walls, became important: we calculated to extend our stints as long as possible to enable us to react on the other teams' strategy. The same was for our #198, which finally jumped inside the Top10 via strategy, now running in ninth in front of Team Heusinkveld and Alpine Eagle Racing. Already, our #197 could enjoy some lead laps due to the strategic offset.
The big showdown: last round of pitstops as game decider
With an hour to go it was the last round of pit stops which changed everything. When Dream Factory and Triton Racing entered pit lane for their final stops, our #197 Benz took the lead again and Tino dropped the hammer behind the wheel. We took full risk to hold on for the race winning opportunity. Relatively we were five seconds behind P2 and 20 seconds behind the leaders. With 18 laps to go, Tino entered pits for our final stop. We only stopped for refueling without changing tyres and had to carry less fuel for the remaining minutes. That strategy call saved us 27 seconds in total and shocked our competitors. Suddenly we held the lead of the race with 17 seconds of advantage and only 40 minutes to go. Despite the disadvantage of old tyres, Tino could hold his pace realtively high and Dream Factory could only gain four tenth a lap, but needed six to seven tenth to keep up their hopes for a victory.
The situation was a pure thriller now with all eyes on the timing screens. Both, Tino behind the wheel of our #197 and Alex Cue, in charge for Dream Factory dropped super fast lap times and went full risk around the Ardenne roller coaster of Spa. While the race was escalating at the top, our #198 was unimpressed and continued their strong drive. P9 was relatively secure in terms of pace and therefore our drivers continued to focus on a clean and faultless finish. With ten minutes to go, Alex Cue had been able to reduce his deficit to eight seconds only, but lap traffic disturbed his pursuit race. Tino was in a tunnel that time, totally focussed on playing it smooth and clean, still taking every corner full risk with degraded tyres. Tension was touchable and as time went by and by, it became clearer and clearer that our #197 was in charge for the big one!
Rennsport Online is now a winner of one of iRacings main events!
Again, Rennsport Online could prove they are true endurance experts, combining consistency, race pace and strategy. However, last weekend showed, that Team RSO is not only a serious challenger on the Nürburgring Nordschleife but also on other tracks. Already the ninth position of #198 is pleasing, regarding the fact that worlds best SimRacers and teams participated in the event. With all eyes on sheer race pace there are better drivers and teams out there, but to keep it clean for over 500 laps and 24 hours is another quality, which Stephan, Tino, Tobi, Jake, Alex as well as Nils, Christopher, Elmar and Patrick showed. At the same time, we are aware it also needs some luck to avoid all troubles. However, this great victory of our #197 Mercedes AMG GT GT3 is remarkable and outstanding. It highly motivates us to continue our development and proof our qualities during the next main events. But for now, we enjoy the moment and and are happy with what we achieved!
Last but not least, we would like to thank all fans and everybody who supported us actively on our road to victory: first of all thanks to Core Motorsport and Trans Tasman Racing for sharing one of their best drivers each with Alex and Jake, wo did a great job and we also had fun times together during the race. Secondly thanks to all our partners and sponsors who strongly support our way, by name: Tölke + Fischer Group, Pop Gymnastik, Sim-Lab.eu and RacingFuel Academy. Thanks to SimRacing Deutschland e.V. and raceunion for providing this nice full coverage of the race. And finally, thanks to all the Team of Rennsport Online behind the scenes at our social media channels and in terms of strategy, setup building, spotting and supporting!
#goRSO <3