[Nürburgring] – This year's SimExpo will not only be about discussing the future of our sport, but also to show everybody what the fascination of SimRacing is about! Other eSport disciplines already show how to promote themselves to an interested audience. The world's biggest SimRacing exhibition followed this concept and introduced the ADAC SimRacing Trophy last year: And one of the most challenging if not the most challenging single player event in the world will again be held on this years' Saturday. During an intense pre-qualifying phase in early summer, world's fastest racers had the opportunity to qualify for this live event, hosted on the main stage of the SimExpo. The Top40 of far over 400 drivers qualified, with only half a second seperating most of the field. There is no harder single player contest in the world and we will witness another thrilling event – that we are sure of. While our befriended Heusinkveld CORE Motorsports driver of Angelo Michel was able to top the bill last year and enter history books by not only being the first ever winner of the ADAC SimRacing Trophy, but also being incredibly young (16y!), this year he will try to defend his title wearing the honourably #1 on his car.
However, Rennsport Online decided to not put any effort into the qualifying process due to the eventful weekend ahead of us. But, we were invited to participate in a new great live event which matches our spirit perfectly: the GT500 race is a team event, allowing up to three drivers sharing a cockpit for a 500km endurance race on Sunday. Therefore, we are very proud to participate and grab this unique opportunity to challenge the best teams in the world as well as many interesting collaboration-entries featuring real racing drivers and teams like Christopher Brück or the ADAC Junior Team or prominent figures from our scene and lucky online qualifiers, chosen by Kicker eSports or Porsche.
Our entry is the well known Porsche 911 GT3 Cup, wearing the dazzling Porsche-orange of our partner Porsche Zentrum Willich. Behind the wheel it will be our successful Trio of Phil, Tino and Cedrik who delighted everybody with their stunning podium finish during this years' iRacing 24h of the Nürburgring race! Beside this promising driver lineup, we also have three more RSO-drivers competing in the very first team event on the SimExpo: Alex, Patrick and Manuel are supporting our friends from Sim-Department with their debut on the digital stage.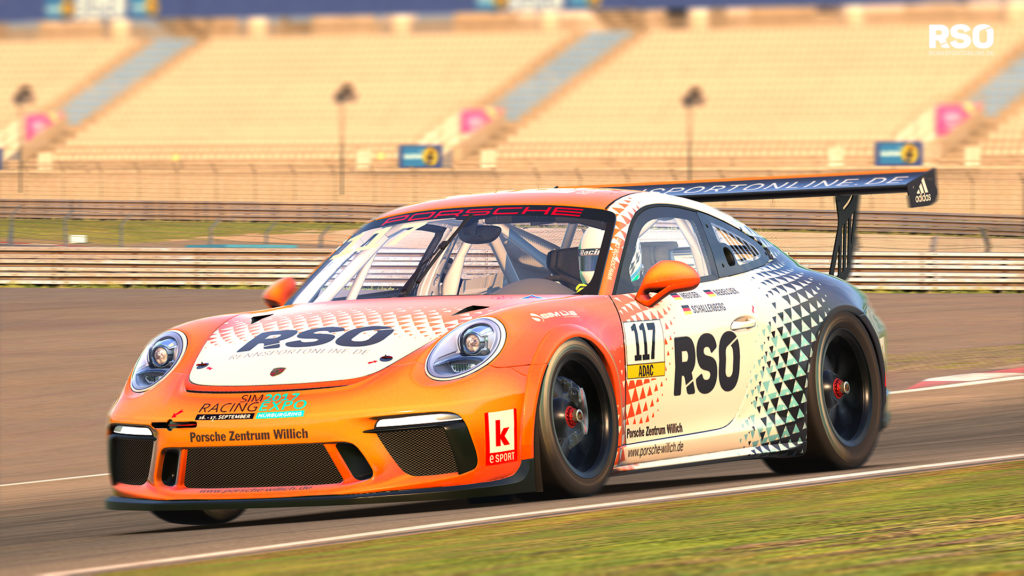 Well known and still gorgeous: Our 911 in the design of the Porsche Zentrum Willich will also compete in the first ever team event, the GT500!

Team RSO #117 – Porsche 911 GT3 Cup
Fahrer:
Tino
|
Philipp
|
Cedrik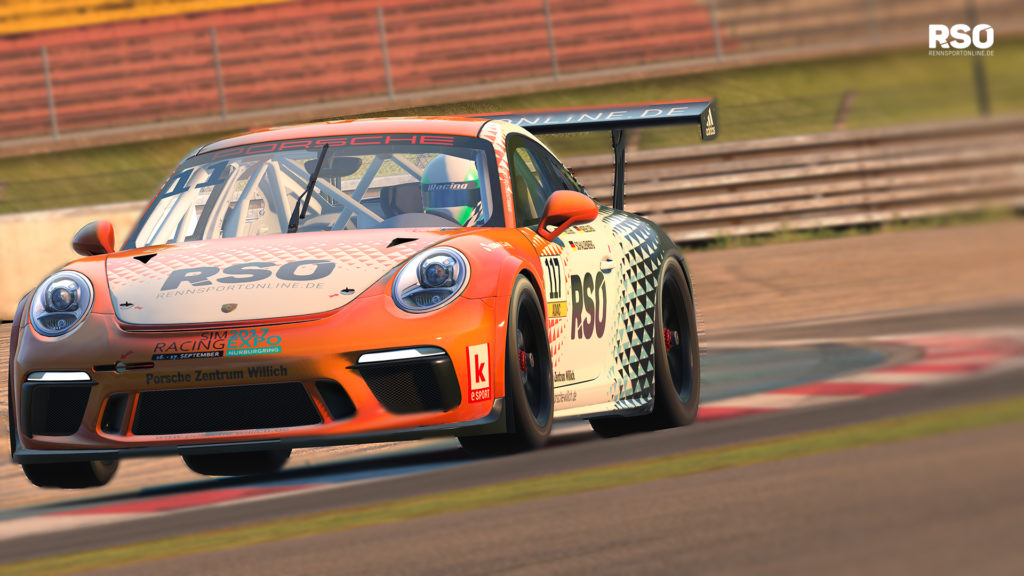 It's a pleasure, Mr. Consistent

With no doubt, there are some faster drivers around in the starting grid of the GT500 and despite all the nice results, including a podium finish at the most challenging race in the world – Tino, Phil and Cedrik are no favorites in this race. Their trump card will be consistency, like always. They know their car and have proven several times, that endurance races are their playground. However, we expect the GT500 to be another, a unique race in terms of competition: never before all the big names of SimRacing were unified within such a race and there is only one start and one race; so, one fault you lose.
Another feature of the GT500 is, that teams are allowed to bring their own cockpits to the stage of the SimExpo. While many teams might use this aspect to their advantage and build up their well known cockpit, Rennsport Online is set to surprise everybody with a really nice idea, even their drivers have no clue how stunning their cockpit is going to be. However, the three of them have to get used to their setup quickly, which is a good opportunity to show how talented they are. And yet we are sure, they will enjoy the most important part of SimRacing: having fun during a great race! 😉
#aufbrotmessersschneide
Team SimDepartment #197 – Porsche 911 GT3 Cup
Fahrer:
Alex
|
Patrick
|
Manuel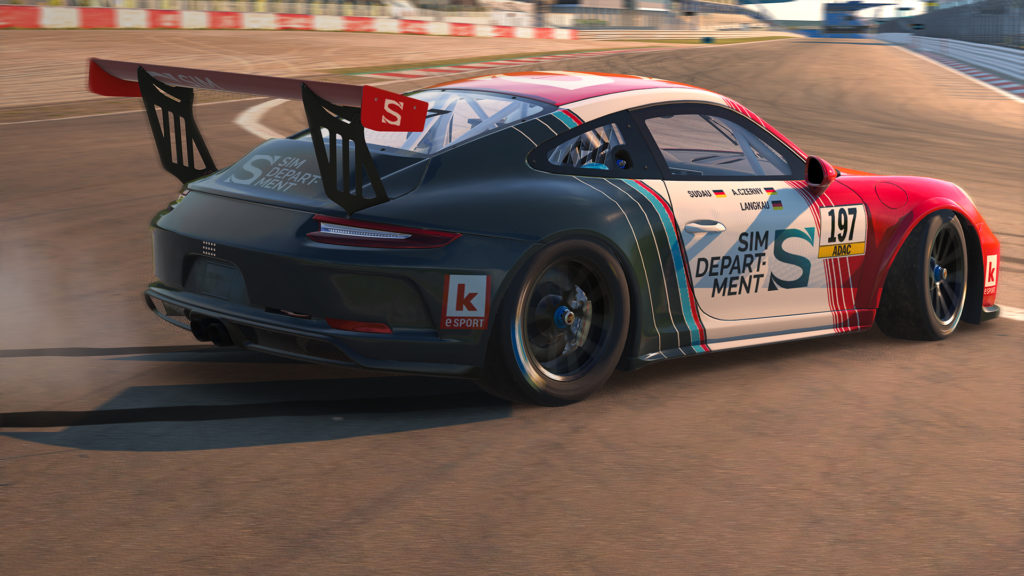 Knock, knock – Who's there?

It's Sim Department, wondering how their story's starting. Well, at least Sim Department will enter the stage of SimRacing with a nice car design and three well known drivers. One of our #flyingtwins will share the duty with Manuel and Patrick, who made history recently, being Rennsport Onlines first driver, to be ranked as one of the Top5 five drivers in the world, thanks to Jake Sparey. Even though they are no experts on the Porsche Cup car, they will try their best to maybe aim for a Top20 result within this incredibly strong and competitive field of the GT500.
Sim Department have their own stand during the SimExpo and will also be present on the virtual stage with the help of our drivers. While virtual and reality are merging, Sim Department will act as provider and consultant of high quality services within SimRacing. Their new enterprise develops business concepts, organizes events and is supporting all kind of actors to implement their ideas into SimRacing and inverse. They build their vision on many years of professional experience from motorsports and marketing. If you want to learn more about Sim Department, go and see them at their stand, next to KTM.
#knockknockitssimdepartment
---
Exactly what SimRacing needs: the GT500 already is a success
While some eSport disciplines make huge stadiums burst, SimRacing is lacking big live events most of the time. Exceptions, like the Visa Vegas eRace or the most recent Finnish SimRacing Championship finals, have proven that there is enough interest around, to make such an event happen. Last years single driver event of the ADAC SimRacing Trophy underlined this finding. Therefore, we are very proud to enter this GT500 event with six of our drivers and enjoy everything what SimRacing is about: competition, professionalism, great racing, tension, consistency, fairness and a stunning experience for all spectators, live or at home! And of course, we are very looking forward to challange many known faces and friends from all the other teams! Let's get it on!
In the following you find the schedule for Sundays team event, as well as a spotterguide and the broadcasting link. Cross your fingers and enjoy the race! #goRSO <3
Sunday
12:00 a.m. | Qualifying
01:00 p.m. | race start
05:00 p.m. | victory ceremony
[pdf-embedder url="https://rennsportonline.de/rso/wp-content/uploads/2017/09/SpotterGuide_GT500_1734_1920x1080px_2017_09_08_3.pdf"]
Saturday, 16th: Live coverage by SRD TV of the 1st day of the SimExpo
Saturday, 17th: Live coverage by SRD TV of the 2nd day of the SimExpo