[Nürburg] – An eventful weekend lies behind us and this year's SimExpo was a memorable happening for our team! First of all, we could successfully kick-off the discussion of how to shape our sport; at least we received a lot of positive feedback and learned a lot about parallel developments of some great ideas. Secondly, we really enjoyed a strongly evolved exhibition, featuring many, many impressive hard- and software products and thirdly, we met great SimRacers, exhibitors and actors of SimRacing from all over the world. Finally, Phil, Cedrik and Tino managed to crown what was already the best weekend of the year, by securing a fantastic P8 in Sundays GT500 race! Oh! And…well, we founded an association!
How to shape SimRacing?
On both days of the exhibition Manuel led through a constructive and knowledge gaining conversation with interesting guests. With the help of Olli Pakhala, René Buttler, Wani Finkbohrer, Alex Herbst, Philipp Schallenberg and Javi Guerra the panel brought some insights into the scene of SimRacing.
During the first day of the discussion panel Manuel analyzed the status-quo of SimRacing together with his guests. The challenge of the different interests, brought into the sport by several actors is huge. In general these interests can be differentiated by SimRacing-related and -non-related ones. For the overall development of SimRacing it will be crucial to bundle interests of teams and drivers with those of the SimRacing-related interests in the first place. While the competitive level of the sport itself is highly professional, behind the scenes resilient organizational structures are missing. Iterative cooperations can help forming these structures. 
During the second day some of the major tasks SimRacing has to tackle became visible. René stated that "SimRacing can be near the top in the next five years, in case we create an own identity for SimRacing in general." Therefore, SimRacing should not try to be something like a lower part of motorsport, but concentrate to untie from this relation. Everybody on stage agreed to what Olli added here: "Right now SimRacing is copying real racing but should start defining itself. The difficult challenge here is to start discussing with teams and drivers on the global level, to exceed cultural borders and fill the massive gap of legal entities."
"Coming away from gaming and showing the sporting character is a key to grab the nice opportunity SimRacing has." is what Wani argued and live events can be a key to such a development, as they are adding another layer of security: immediate reactions and emotions by the crowd are shaping the sport and increase the accessibility! Furthermore, they contribute towards the storytelling of SimRacing. If SimRacing wants to reach more and external audience, people or actors it has to explain itself: its rules, its functioning, its structures and its characteristics. Here, the broadcasting, reporting and moderating gains a major role within the sport to carry all the emotions "out of the forum and into the world", like René summed up. The discussion panel highlighted these findings and provides a nice base to continue with a bottom-up development of SimRacing in general. One key factor can be the official registration of the International SimRacing Federation as a legal association, which just happens these days. Olli points out, the ISRF offers the opportunity to "involve everyone in SimRacing so the community then can decide what is best for the sport". Hence, the ISRF helps to organize teams and promotes communication and exchange amongst all actors. At least, we found a starting point with the help of the discussion.
If you want to re-watch the whole discussion, feel free to do so; here are the respective links:
1st half of the discussion panel on Saturday

2nd half of the discussion panel on Sunday

SimExpo: Like a huge school reunion
It was a real pleasure to stroll through the exhibition hall and either see everybody with a big smile or looking serious and interested while testing one of the many products or listening to explanations about the newest innovations. All the big hardware developers were present and – especially compared to last year – built up their high-tech simulators: VR or triple screen was a minimum standard and most of the simulators even featured DD-wheels and full motion systems. It was obvious how quickly the whole branch is developing. However, for Rennsport Online it was all about meeting new or known faces, discuss trends, race-action or simply enjoying the whole atmosphere. The SimExpo established itself to bring together the whole scene within only four years, and we love it!
Testing and enjoying: Cedrik is testing the new Heusinkveld H-shifter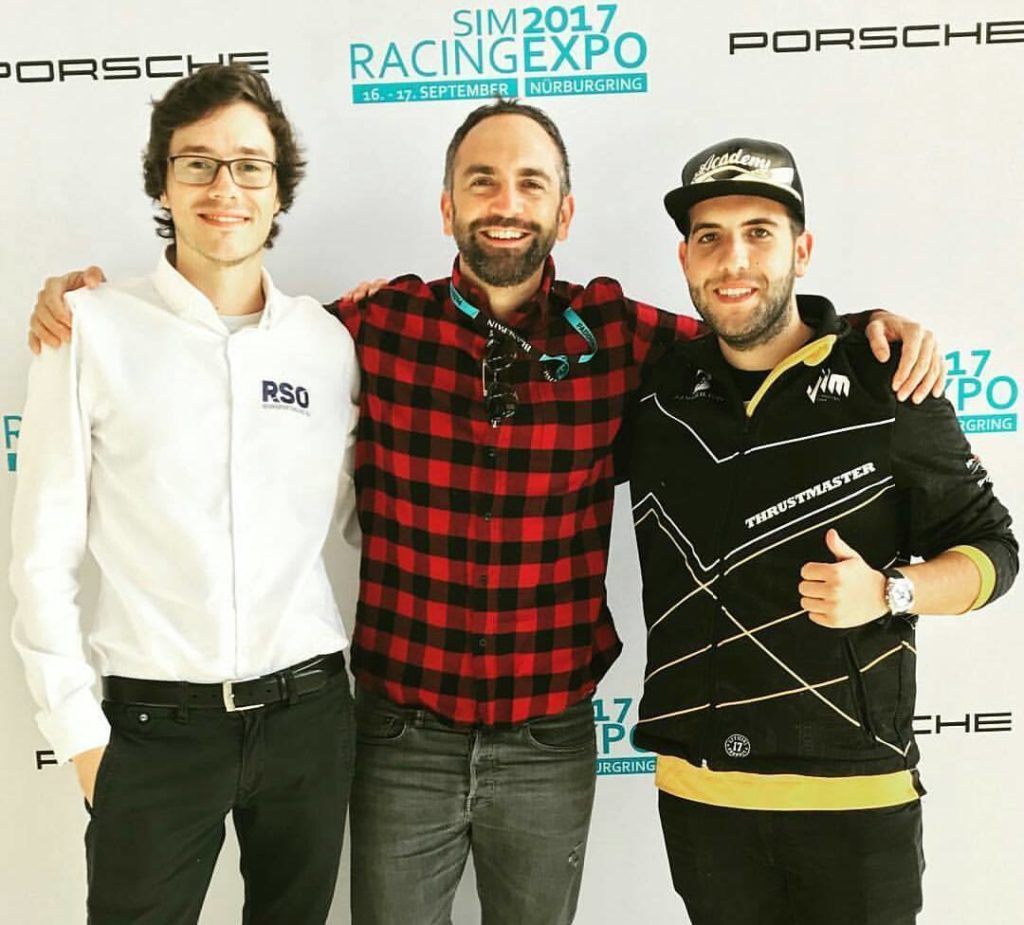 Friends: Of course we made many new friends during the SimExpo and we are looking forward to exciting projects to come!

The big One – GT500 truly was the pinnacle of competition
As expected before, Sundays GT500-race kept its promise: All the best teams of the world competed in this spectacular race. Teams like VRS Coanda, CoRe SimRacing, PRT, Heusinkveld CORE Motorsport, JIM Racing Team, Triton, MSP Phoenix, SimRC.de, Iberica Racing or INEX entered the 500km endurance event. For all teams it was set to race the same car: a Porsche 911 GT3 Cup, which of course enabled us to race our well known Porsche-Orange 911 in the colours of our partner Porsche Zentrum Willich! Beside this top-class-lineup of the who-is-who in SimRacing the special thing about this live event was, that teams were allowed to bring their own cockpits. While many teams brought their well-known rigs from home, Rennsport Online showed up with a jaw-dropping stunner! Thanks to our partner of the RacingFuel Academy who developed and designed this sheer beauty!
Motivated and more than proud racing in this masterpiece of a cockpit, the first dampener wasn't long in coming. During the 30 minutes of qualifying, the PC crashed and took away more than 20 minutes of time to set a good lap. With only two flying laps remaining, P15 was the outcome and definitely a difficult starting position in the middle of the grid. It was bound to happen: Right in front of Phil, MSP Phoenix and the Pure Racing Team were involved in an huge but unlucky T1-incident and Phil had his work cut out early! Somehow he could avoid more damage but was dropping back and had hard times to recover within this competitive field around him.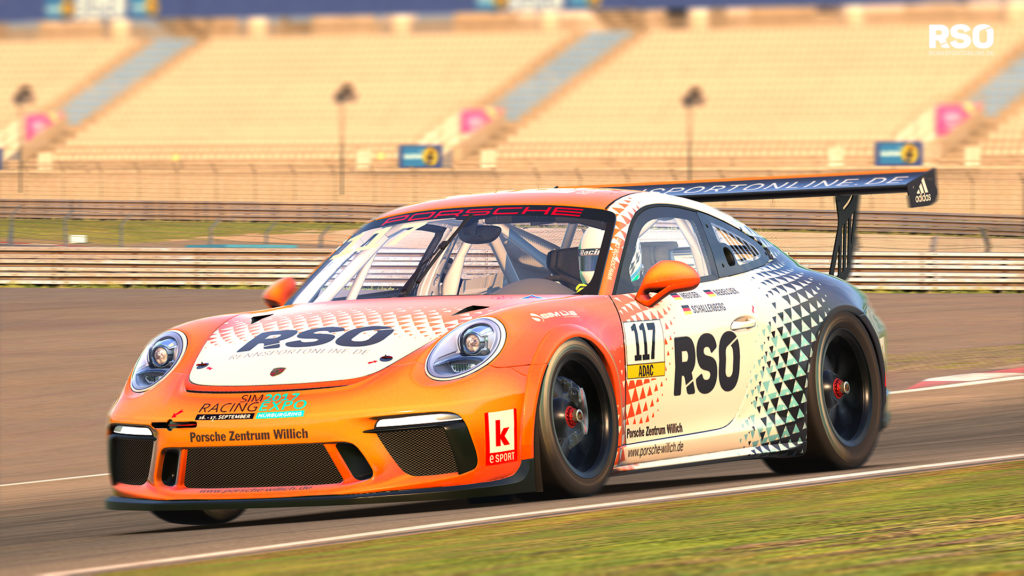 In the end it was another great result for our Porsche Zentrum Willich-911: P8 in a world class field at the GT500! Great!
Together with Cedrik, both played the RSO-card and showed a superb clean and consistent race in the following. Slowly but surely our #117 could recover from the early setback and gained spot after spot to finally reach what was the teams goal before the race: a Top10 position. During the final stages of the race Cedrik then entered a tunnel and united with his cockpit: lapping the Nürburgring GP-course with Top3-pace he stormed through the field and could even catch P8 in the end! WOW! If only the race could've been longer… Anyway, considering the quality of our opponents, P8 is another great result for our team and we are almost as proud on this performance as having raced this beauty of a cockpit!
#momIambroadcasting: The whole GT500 race was also broadcasted by Racespot TV! What a great show!
Welcome to the club: the development of Team RSO continues
We definitely enjoyed this year's SimExpo to the fullest but also beside the big stage we proactively continued to write our own history: Rennsport Online is now an official association! During the past two years since the founding of Team RSO, we realized many exciting projects: Be it as event organizer of the official KTM X-Bow Battle Online, as journalists, reporters or video instructors, we unite many talents within our team which are not directly related to racing. We are always curious about new opportunities, unknown challenges and innovative ideas. We are keen to help developing our team, create future opportunities and contribute to the general development of SimRacing. While our sport is rapidly growing and many opportunities appear, we missed a legal form to handle our needs. With the trust, belief and help of our honourable partners – namely the Tölke + Fischer Group, the Audi Zentrum Krefeld, the Porsche Zentrum Willich, Popgymnastik, Sim-Department, Sim-Lab.eu and RacingFuel Academy – we could now realize the next logical step on our way of professionalizing as an eSport team!
#goRSO <3