[Zurich] – Less than 24 hours until the premiere of the first ever exhibition on eSport in Switzerland and Rennsport Online proudly reveals its important role: We will be representing SimRacing as a sport, as a dedication and as our all passion to the people of Switzerland!
It was more than one year ago when Martin Schorno and his agency of Amazing Event came up with the idea of creating the first ever exhibition, only about eSports. Amazing Event is well known within Switzerland, as they are the organizers of many popular exhibitions like the Fantasy World Basel. During the last years they already included some national eSport finals of LoL or CS:GO into these exhibitions but this year, they go beyond! eSport has it's own exhibition now and the hype is real: Nintendo, Playstation, Sony, Red Bull, Samsung, Ubisoft, Lenovo and dozens more huge companies from the gaming industry will be present and expectedly lure more than 50.000 visitors to the exhibition halls of Switzerlands biggest city!
On the search for a representative of SimRacing, Rennsport Online came across early this year and after some interesting and creative months of hard work, we developed a nice program for this weekend, aiming at representing SimRacing as a relevant and emerging eSport. Tomorrow evening, right after the opening ceremony of the Zurich Game Show, Manuel will give a brief introduction into SimRacing to a hughe audience of interested visitors, gamers, developers, investors, media, … to Switzerland's gaming-industry!
Prime time, main stage & opportunity
Some of you may remember the nice discussion panels we moderated during this years SimExpo, only four weeks ago. While back then, the main focus was on learning about the different and relevant needs of our scene, this time we bear a lot more responsibility! Explaining how SimRacing works, give an understanding of all the work and competences behind sporting success and carry the emotions of our sport to the interested but maybe unknowing audience will be a pleasure for us but also challenging. As already stated in our editorial on the status-quo of SimRacing, we as a scene are almost invisible within eSports in general. However, that is for a reason and therefore, we are aware of the importance of our role during this weekend. Thus, we asked for help and we are very proud we could engage two very special partners to tackle this challenge:
Wani Finkbohner:

Wani

(42) spent his lifetime in motoring. While working as a Journalist and Illustrator for Swiss and also well known international motorsports titles he was also racing in different one-make series (Formula and Touring Cars) all around Europe. Crowned by the title of the strong Czech Skoda Favorit Pick Up Cup (Circuit) in 1999.

Wani

Finkbohner was using his first simulators and very first data logging systems already in the early 90's. As the Team Manager in FR2.0 EUROCUP, he was always believing in the aid of most recent computer technologies. In the past 15 years he built up his company RacingFuel Ltd. which is the sole distributor for well known motor sports brands in Switzerland. His newest company the RacingFuel Academy AG is focussing on the convergence of Real and Virtual Racing, producing and distributing his own High-End Simulators.
Albert Costa: Albert (27) maybe is one of the many 'hidden stars' on motorracing: During his very successful career, the (still) young catalan racing driver celebrated many victories and highlighted his career, winning the Formula Renault Euroseries in 2009! During his career he beat many well-known drivers like Dani "Shoey" Ricciardo, Valtteri Bottas, Brendon Hartley, Jean-Eric Vergne or Kevin Magnussen! Just imagine, where he could be today, with a little bit of luck…well, and connections. However, today Albert is competing in the Blancpain Endurance Series and the International GT Open, regularly showing his great talent. He is racing for Emil Frey Racing and piloting both, the Jaguar G3 and the Lexus RC-F GT3. Furthermore, Albert has always made use of Simulators to prepare for his races and is regularly using them; making him the best possible guest on stage to discuss synergies between Racing and SimRacing.
If you are in Switzerland or near, we warmly invite you to our presentation on SimRacing, this Friday, October 20th, starting at 9 p.m.

Left: On stage again, Manuel will contribute to SimRacing by giving a talk on our eSport | Right: Wani (m.) will be on stage for a podium discussion on SimRacing, again. Great!
Carrying emotions and sharing our passion
It's standing to reason that one appearance on stage is not enough to represent the beauty of our sport: Therefore, we are very proud to also have our own exhibition stands, together with our partners. With the help of Wani and his RacingFuel Academy, Emil Frey Racing and their main sponsor of Polyphony, we will have two stands (Nr. 610 & 611) where we will discuss, explain and demonstrate SimRacing. We perared some nice surprises there, including the two original GT3-cars, Emil Frey Racing developed for Jaguar and Lexus, and of course, we will bring our simulators, which some of you might remember 😉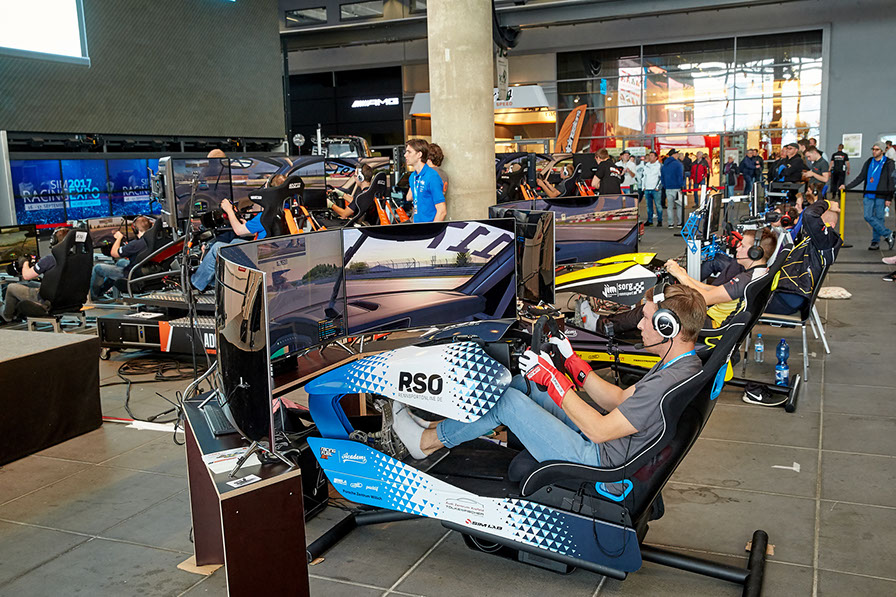 Eye catcher: Of course we will bring our beautiful RSO-simulator, developed by RacingFuel Academy
Visit us, race us, meet us – Game on at the Zurich Game Show
We are very looking forward, to meet you either during Fridays opening ceremony and after party or on Saturday and Sunday at our exhibition stands, Nr. 610 and 611! Please find more information in the official booklet of the Zurich Game Show or on their webpage: Zurich Game Show 2017 Here is a brief overview about the schedule, only regarding involvements of Rennsport Online:
Friday
18:00 | Opening Ceremony | Main Stage, Hall 4
21:00 | SimRacing – eSports Highlight und Wirtschaftsfaktor | Main Stage, Hall 4
Saturday
10:00 | RacingFuel Academy, Rennsport Online and Emil Frey Racing | Hall 6, Nr. 610 & 611
Sunday
10:00 | RacingFuel Academy, Rennsport Online and Emil Frey Racing | Hall 6, Nr. 610 & 611
[pdf-embedder url="https://rennsportonline.de/rso/wp-content/uploads/2017/10/ZGS2017-Tagesprogramm.pdf"]
PS: We will tell you afterwards how the discussions about the wording "game vs. simulation" were 😉
#erhatspielgesagt