Rennsport Online – Season stats
Team RSO #47 – HPD ARX-01c
Fahrer:
Tino
|
Stephan
|
Markus
|
Manuel
|
Patrick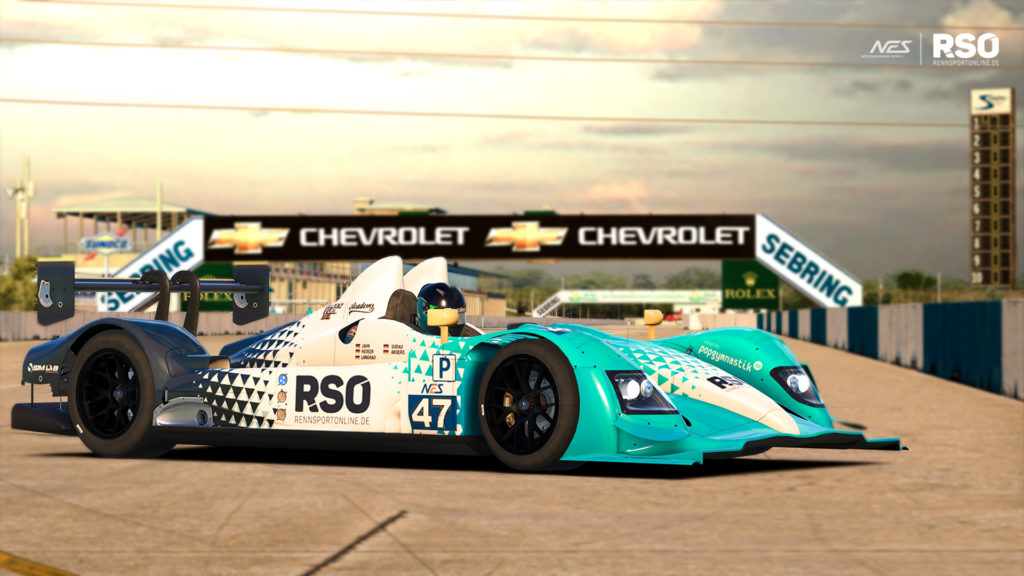 Grab bag in prototype class

It already is an honor to have a second car qualified in the fourth season of the NES. On our search for new challenges Rennsport Online aims a Top 10 season finish in the fastest class. With almost no experience in the prototypes the quintet of Stephan, Markus, Patrick, Tino and Manuel have to show a steep learing curve over the season. And yet Markus and Manuel already flashed their potential on a prototype car when they finished the top split race of Watkins Glen on an outstanding podium spot. Beside that Tinos, Stephans and Patricks talent is out of discussion. However, NES is different: a fully packed field with the best SimRacers worldwide will challenge them to the most!
The HPD ARC-01c requires a completely different driving style due its high level of downforce and strength under breaking. Already the opening round on the bumpy Sebring International Raceway will be a first benchmark, where traffic management skills will decide over the race result. Driving the fastest car on track will be a beneficial seat when it comes to overlapping of the slower GT-cars and the race distance of six respectively 24 hours will be an advantage for our squad, too. Every time when it comes to strategy and endurance races, Team RSO is a team to watch out! We are curious how the five of them will develop throughout the season and very pleased to feature two cars in what is the unofficial endurance world championship of iRacing!
#GP2engine #ihavenopower
Team RSO #97 – Ferrari 488 GTE
Fahrer:
Tobias
|
Alex
|
Philipp
|
Nils
|
Cedrik
|
Elmar
Forza Ferrari, Forza Team RSO

It is always enjoyable to race an Italian race car like the 488 GTE, a true race car with no break assistant system and designed to race at the highest possible level! It is even more enjoyable to do so in the NEO Endurance Series, in the middle of the elite of SimRacing. The super competitive GT-class will be spectacular to watch and our #flyingtwins, Phil, Cedrik, Nils and Elmar will have to reach their limits to be competitive. How close GT-class will be during the season was obvious during the official qualifying in September already, when the Top 20 cars were within one second on a 10-laps-average! Good, our #97 was already qualified due to their wildcard entry, earned through a great 2016/17 season!
Compared to our HPD-team, our Ferrari-drivers already have some experience on the Ferrari, and showed great performance during the official 24 hours of Le Mans, at least for 1,5 hours until the race was stopped; you know the story. But, for the same reason there is almost no experience teams can rely on in terms of the performance against the Fords. It will be interesting, how the Ford GT-teams will play their advantage of a 8-litres bigger fuel tank. We expect this years GT-class to be ultra-exciting, with endurance-hotlapping on the one hand and strategic battles between two different cars on the other hand, all this among worlds best SimRacing teams. However, we are keen to fight for a Top 10 season finish in this class, too.
#forzateamRSO
---
Saison progress and results
Season progress
6h of Sebring
6h of Road America
6h of Motegi
6h of Nürburgring
6h of Spa-Francorchamps
24h of Le Mans
Quali
Race
Quali
Race
Quali
Race
Quali
Race
Quali
Race
Quali
Race
#47 - P
17
13
16
18
15
17
16
14
14
16
16
20
#97 - GTE
23
19
30
19
27
DNF
29
19
23
DNF
29
DNS
About the NES
The 6 hours of Sebring will kick-off the NES-roadshow with its official qualifying session on October 14th and the 6 hours race to follow on October 15th. The season will then continue with round two at Road America. For the third round all teams will head to Japan for the 6 hours of Motegi. Round four will then happen on the famous Nürburgring with the 6 hours of Nürburgring before the teams will head to the beautiful and legendary Ardennes-rollercoaster in Spa to compete in the 6 hours of Spa-Francorchamps. On March 24th the NEO Endurance Series then will finish its fourth season with the legendary 24 hours of Le Mans.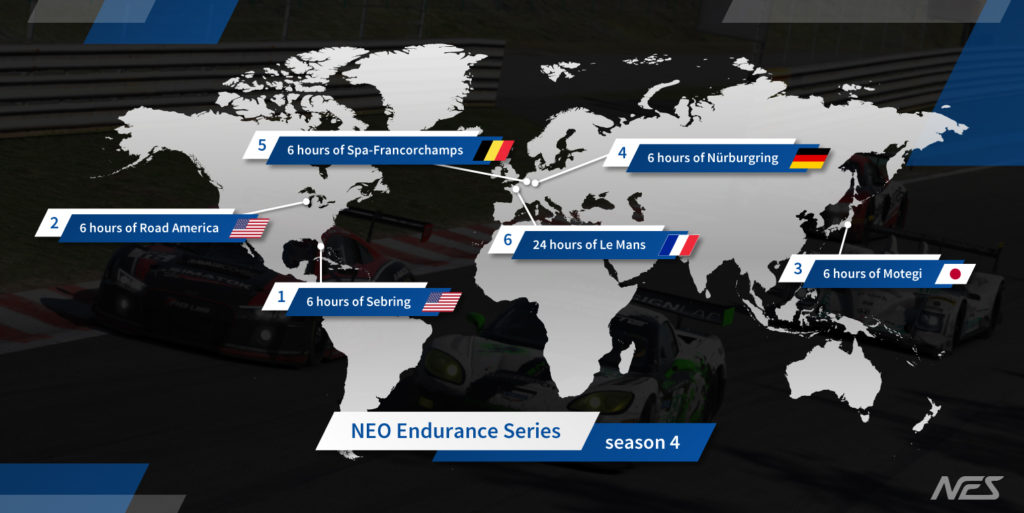 Around the World: the NES teams will compete on six of the most wonderful racetracks of the northern hemisphere! © www.neo-endurance.com
The famous NEO Endurance Series has
two different classes
for its fourth season: Prototype (P) and Grand Touring (GT). Already last season the ultra fast Honda Performance Development (HPD) ARX-01c will be the only car in prototype class. The stunning V8-fired HPD ARX-01c is a LMP2-like prototype with an open cockpit designed to perform! Despite the fact, this car was developed already ten years ago, it is still convincing on track: 480 BHP of the 3.4L engine accelerate the lightweight of only 825 kg. Combined with its huge downforce, the HPD is a true challenge for the drivers, especially when it comes to laptraffic where high corner speed and short breaking distance have to be played-off smart.
In contrast, the Grand Touring-class (GT) features two purebred and modern race cars. The NES-GT-teams choose from the V6-fired Ford GT GTE and the V8-fired Ferrari 488 GTE, both are true Le Mans GTE-class legends! The Ford has a spectacular design with an almost prototype-like tail. The mid-engined and only 1 m tall American is fired by a 3.6L Ecoboost engine with 530 BHP. His contender is a typical Italian beauty: The Maranello-original has a screaming 4L twin-turbo engine with 530 BHP under its well shaped chassis. In the past, both cars had thrilling battles on track and we are very looking forward for the virtual sequel.
For more information, visit the official homepage of the NES: https://www.neo-endurance.com/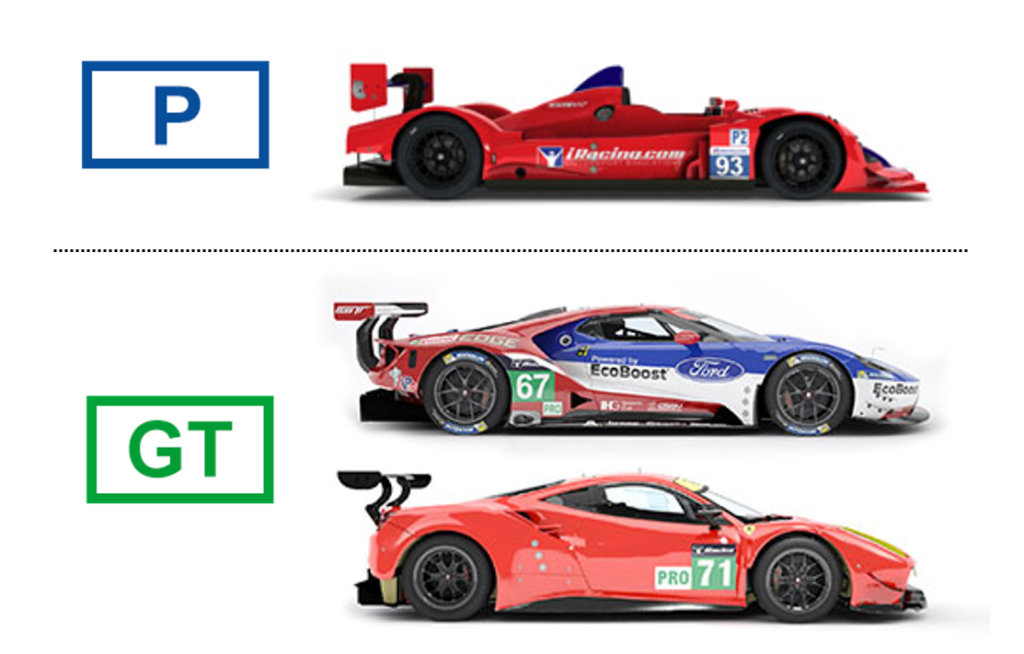 Multi-Class at its best: three cars in two classes will compete within the NES – Honda, Ferrari, Ford…what a sound! © www.neo-endurance.com
News and race reports