If you thought 2017 was a boom for SimRacing, what will you call 2018 then? We are only two months into the new year and already we whitness real game changers which eclipse all we have seen in 2017! In our new format Rennsport Blogline we care about contemporary developments which strongly influence our sport or at least have the potential to. We try to express our thoughts from our teams perspective and might share some honest emotions between some analytical facts!

In our first Rennsport Blogline our chairman Manuel shares his toughts on the current situation of SimRacing in general. Manuel analyzed our sport last year and was moderating two discussion panels on SimRacing during last years SimRacing Expo at the Nürburgring. Later that year he held a keynote talk at the first ever exposition on gaming in Zurich, Switzerland. He introduced the interested audience to our sport and highlighted what it needs to be a SimRacer and what competences a SimRacing team requires to successfully establish itself in economic and competitive terms. Beside driving, Manuel is responsible for Rennsport Onlines media appearance, sponsoring, cooperation and internal organization.
---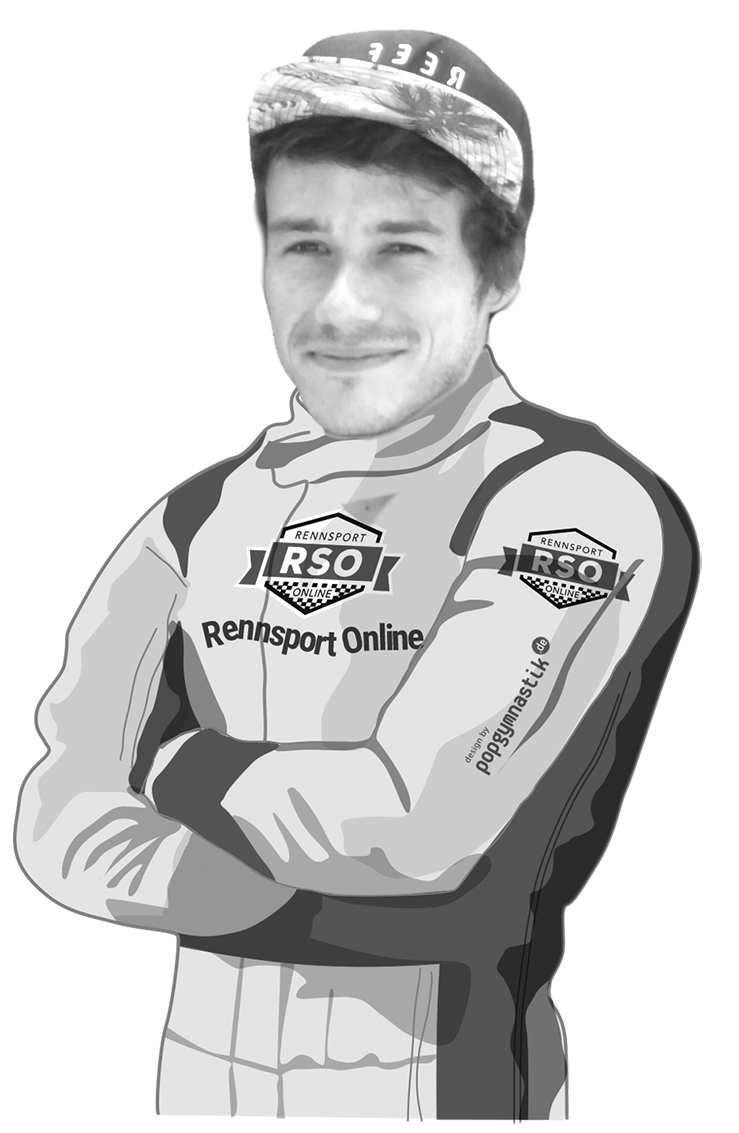 Manuel is a chairman of Rennsport Online

---
The shaping of SimRacing is happening, but it is not us who are shaping!

Only half a year ago, discussions about how our branch could be shaped were going on in our scene. And only some rumors, inside knowledge or internal discussions could indicate what is obvious today: sponsors, investors and real motorsport teams push into SimRacing like never before. It seems to be a hip thing to have your own SimRacing team, if you are a real motorsport team: Phoenix Racing were trendsetters in early 2017, raceunion, Zackspeed, Mücke, Sorg and many more followed during the last months and there are even more to come! In the first place it is positive and very welcome to see established and professional teams caring about SimRacing and acknowledge the sport, competition and benefits we can offer to the real world. But at the same time it is surprising to see how SimRacing, or better to say its teams, react on this new and strong interests: we whitness uncritical hype. It is cool to partner with real racing teams. So far so good, but does anyone question what is behind all this trend?

The big players are already queuing, but it is not us, again!

Last year we stated SimRacing has weak and sensitive organizational structures. Even though, the International SimRacing Federation (ISRF) is forming right now and might be a strong and meaningful bottom-up institution of SimRacing, most of the actors within our sport are lacking structures, competences and awareness about the consequences of the current development. Fact is, the latest actions of new actors within SimRacing will strongly influence our sport as well as its logic. The most obvious development clearly is Fernando Alonso's build-up of his own SimRacing team. Based on the super-professional structures of G2 eSports he launched a new SimRacing team last November and signed the personalities of Danny Engels and Cem Bolukbasi. In the meanwhile, FA Racing G2 poached the likes of Frederik Rasmussen, Isaac Price and Sebastian Job from Core SimRacing as well as Joni Tormala (Inex) and Nestor Garcia (IRT). The forming of a hyper-competitive SimRacing team is happening which should be expected to be nothing but the new spearhead of our sport.

To speak for our team, we warmly welcome FA Racing G2 as an intersting project and we are curious about their future pathway. At the same time, we feel respect and a slight fear about how this involvement will change driver-team-relations in the future. Probably, most of FA Racing G2's drivers are the first ever SimRacers to get contracted, paid and maybe be able to make their living from SimRacing! Clearly, it is great for our sport but it might endanger settled habits of SimRacing by taking this young and new generation of SimRacers to a new level.
---
Bottom-up or top-down? SimRacing's new leaders have clear concepts – and power!

FA Racing G2 is only the tip of the iceberg: FNATIC, another professional eSports team, signed Nick Fry, former CEO of the Mercedes Formula 1 team, as their new Head of Commercial Strategy only a few weeks ago. Jet, there are no official plans to enter SimRacing but the signing itself suggests a similar move like G2 eSports did before. Famous SimRacing-journalist Jake Sparey already described the movement as a Gunpoint for SimRacing, stating that FA Racing G2 can be "[…] considered to be the catalyst for the corporate shift in simracing with teams such as KIYF, Campos Racing, McLaren and Renault all angling moves into the simracing market." (SRO, 2/27/2018). The similarity of these developments is: seemingly endless financial and organizational power, experience and competence, all of which are missing factors within SimRacing so far.

Personally, I have no doubt that these professional attempts have sustainable character in the sense that success and establishment of these teams will happen. Competence and resources are too strong to fail and hence, will influence competition and events in the next months and years. This development will split grown-up teams, lure their drivers and start a process of survival of the fittest within our sport. I see this as a logical, self-cleaning and unavoidable process of SimRacing and jet I see most of the teams as unprepared and unseeing towards this development. To return to the topic of professional motorsport teams entering SimRacing, it will be crucial for these cooperations to form legal and organizational boundaries which enable their SimRacing subsidiaries to live through the current dynamic of SimRacing. To highlight the dramatic differences I am referring to: if million dollar companies like FNATIC or G2 and in cooperation with personalities like Fernando Alonso and backed by companies like Logitech compete with agreements on god faith, this can be described as a very imbalanced competition. It is economic-driven interest versus the hobby of SimRacing! They are the ones that start shaping the identity of SimRacing to the world! Unsurprisingly, René Butler red-flagged this development already last year: "SimRacing can be near the top in the next five years, in case we create an own identity for SimRacing in general." But, SimRacing should not try to be something like a lower part of motorsport, but concentrate to untie from this relation (SimExpo, 9/16/2017). By the way, this is exactly what institutions like Liberty Media discovered recently. And I am sure a hughe and financially strong official F1 eSports series will follow this year, attracting the who-is-who of SimRacers!

When I was claiming that "SimRacing as an eSport needs to subsidize professional labor force to form organizational institutions and tackle its weaknesses and potential risks for non-related market players." while sharing my thoughts on changes and opportunities of SimRacing last autumn, I saw this development coming. Inevitably, Core SimRacing will be the first example if and how an established team will master this challenge after losing three of their key players. Please do not get me wrong: I believe this will be a challenge to all of us: different interests, brought into the sport by several (external) actors will be crucial for the professionalization of our sport.

Understanding the shaping process: how to cope with professionalization?

Eric Liu (TED, 3/28/2017) argued that getting power "[…] is more than stepping into someone else's shoes — it's stepping into the story of how someone else came to be wearing those shoes." With no doubt G2 & Co managed to learn exactly how SimRacing works and how to transfer its value to real business. Now we have to learn how to absorb and profit from their ideas and actions. To restructure processes and organizational forms, benefit from partners, formulate contracts which secure knowledge-transfer and form functioning cooperations will be key to make use of the current dynamics. I pin my hopes in institutions like ISRF to bundle bottom-up interest and at the same time form coexistence of hobby and business. Social media activities, presentations, corporate identities and clear, long-ranging strategies are strong drivers of attractivity for potential partners or sponsors. But, we have to work out services or values from which these partners could profit. We have to stand in for certain principles which make a team trustworthy, an equal partner and therefore procure bargaining power. In my opinion we are at a turning point where we as SimRacing teams loose control about this relation.


Ironically, powerful teams like FA Racing G2 propably are the ones, able to invert this development but everybody of us should also think about our own strategies! I start being bothered about selling success only. It is not because of the temporary lack of good results of my team, it is more because from the outside, noone can really understand how SimRacing works. It is definitely a reason to be proud on let's say a victory during an official iRacing special event, but there has to be a communication about how these races work: there are hundrets of teams and hence, several splits. There should be no regret about which split a team was racing, because a win is still a win, so why not mentioning which split it was? The key message should not be the result itself, but the emotions a team went through during a race! It was one of the key agreements of our discussion panel on shaping the future of SimRacing that we have to carry our emotions out of the forums and into the world. Personally, I want to stick with this. The moment we loose our focus on the link of our all passion – which is emotion and ethusiasm for SimRacing – we might loose our strongest value to communicate what our sport is about. In that moment, we enable powerful players to dig in from outside, excerpt the competitive racing and integrate it into their products or economic concepts. As a single team we are too weak to resist the current development, together with our partners we might find a niche but as a bundle of common interest, for example unified in the ISRF, we might have a chance to create that coexistence I was talking about earlier or at least, give it a voice.

#goRSO