Grand Opening of the RacingFuel Academy feat. iRacing official 24h of Le Mans
[Zurich] – This weekend is going to be another highlight for Rennsport Online. Together with our friends and partners – the RacingFuel Academy – we organized a huge opening event for their new facilities in Horgen, Switzerland. The RacingFuel Academy will officially open its doors to clients, guests and public on Saturday 12 a.m. to show its great infrastructure (for more info, read below).
There will be an entertaining program on-site but we also offer a nice streaming show, including several backstage stories and special insights from the event. As one part of the program, Rennsport Online is competing in iRacing's 24 hours of Le Mans special event. Most of the team will be at the Academy and participate in the race on three professional simulators of the RacingFuel Academy. Our guests can follow the race live via the RacespotTV and iRacing eSports Network coverage in our public viewing area. Of course they can also observe how our drivers do their job or follow our strategists at our command tower. We are very proud to announce, too, that Mr. #doyoumind Jake Sparey will join our event. He will travel all the way from the UK to Switzerland and do his commentating for RacespotTV live from the Academy. Therefore, we prepared a separate commentary box for him and are curious how he likes it.
Futhermore, we'll have an "open grill" to BBQ and we are offering all sorts of drinks at our new bar. Our guests can testdrive our simulators, race against their friends, chat with our many guests from real racing and SimRacing or just follow the race in our lounge. Everyone is welcome to visit us, enjoy the atmosphere of the RacingFuel Academy, whitness professional endurance SimRacing and experience the new facilities. The whole weekend will be a unique combination of real racing and SimRacing, highlighting the many synergies, sensitizing for the benefits of including simulator training into race preparation and offer great opportunities to meet interesting people!
If you are in or near Zurich, you are very welcome to meet us in the Academy at any time (it's a 24h race) and enjoy the event. If you have any questions, contact us via email or Facebook.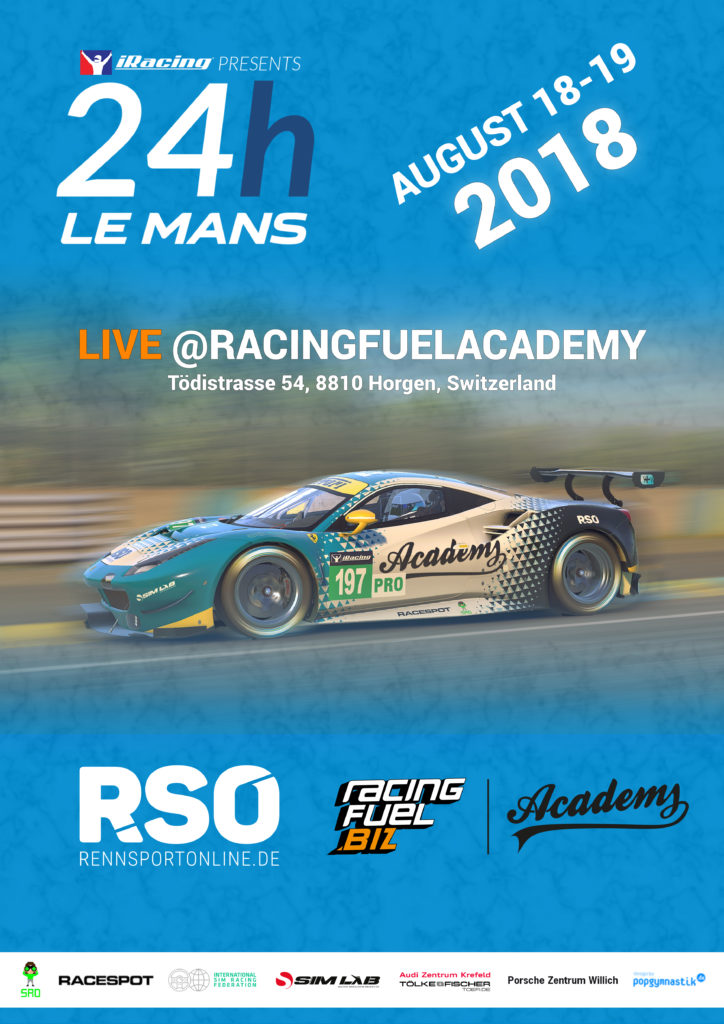 Visit the RacingFuel Academy and Rennsport Online at our common opening event this weekend!
---
24 hours of Le Mans
It is one of the greatest motorraces in the world and wrote so many incredible stories: the 24 hours of Le Mans can be considered as the Queen of all races. It is the world's oldest endurance race and was first held in 1923. Starting this Saturday at 3 p.m., it will challenge the virtual drivers on the famous 13.63 kilometres long Circuit de la Sarthe. There will be three classes, fighting for glory: the all new LMP1 class features the hybrid prototypes Porsche 919 and Audi R18 while the LMP2 class is a one-car-only class with the HPD ARX 01c. The "slowest" of all classes features the Porsche 911 RSR, Ford GT and Ferrari 488 in the GTEndurance. Rennsport Online will enter the competition in GTE class and is preparing two Ferrari 488 GTE's for this weekend.
Team RSO #197 – Ferrari 488 GTE
Fahrer:
Cedrik
|
Stephan
|
Manuel
| Nils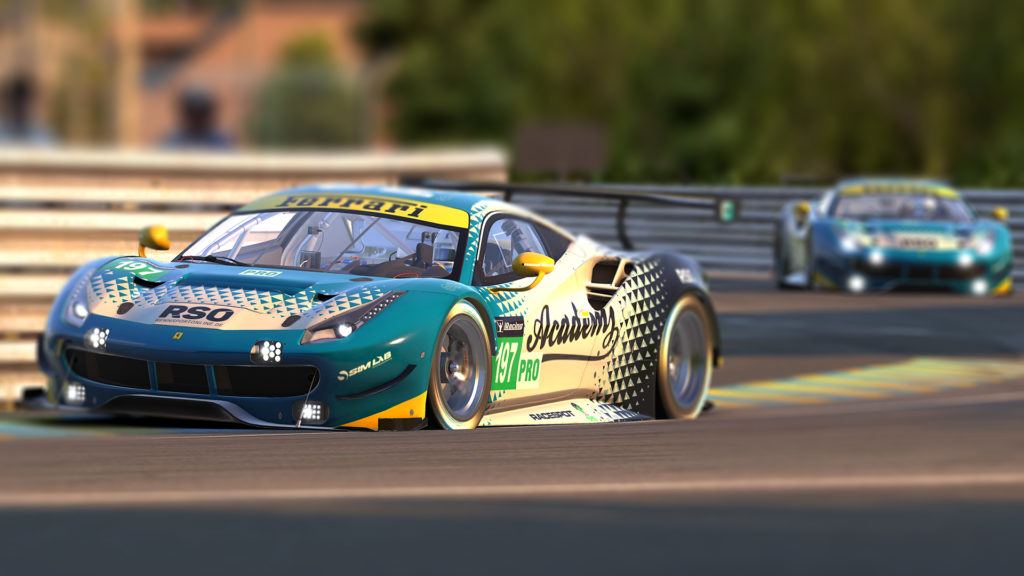 Grab bag in GTE class

It's a strong endurance lineup in our #197 Ferrari: Stephan, Ceddy, Manuel and our new intern Nils are sharing duties behind the wheel. While Stephan's and Ceddy's qualities are out of discussion Manuel will have to stretch for their impressive pace, both of them have shown during the week. Meanwhile Nils celebrated a textbook debut for Rennsport Online, when he won the VLN six hours race all on his own last Saturday! This show was more than enough to underline his endurance qualities and proof, he's a great addition to the team. Manuel worked hard during the week on both his race pace and setting up the simulators.
Hence, we are very confident about our #197s' potential for this weekends special event. However, it can be expected to be a tough race in the slowest of three classes. All the international top teams will enter the competition and it will be interesting to see, how the Ford GT- and Porsche 911 RSR-teams will play their advantage of a bigger fuel tank. We expect the GT-class to be ultra-exciting, with endurance-hotlapping on the one hand and strategic battles between three different cars on the other hand, all this among worlds best SimRacing teams.
#fourontwentyfour
Team RSO #198 – Ferrari 488 GTE
Fahrer:
Philipp
|
Nils
| Christopher | René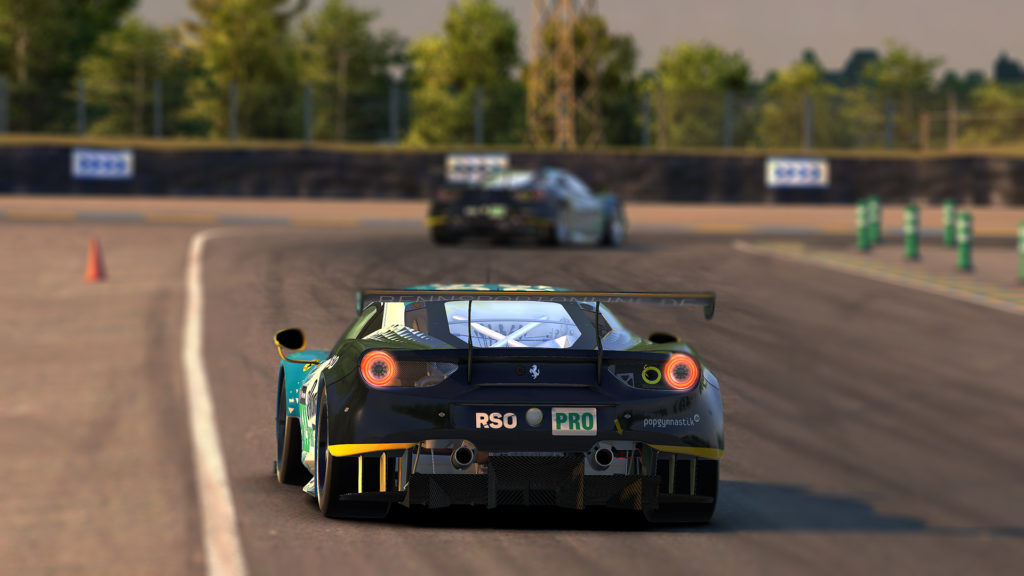 Forza Ferrari, Forza Team RSO

It is always enjoyable to race an Italian race car like the 488 GTE, a true race car with no break assistant system and designed to race at the highest possible level! It is even more enjoyable to do so in the 24 hours of Le Mans, in the middle of the elite of SimRacing. Like its sister car, our #198 will be driven by four of our drivers: Phil will race alongside our second new intern René. He is relatively new to GTE cars but was matching the fastest times of our #197 car during practice, which is really impressive. It will be interesting to see how René will integrate himself to our endurance program and how he can contribute to a good result.
The two of them are supported by Christopher and Nils who have both scored some decent results in the past: Unforgotten is their impressive second position in KIA class in this years 24 hours of the Nurburgring alongside Marcel and Koen Clopman. For this weekends 24 hours of Le Mans, our four drivers of #198 are betting everything on strategy. During practice one could see them improving their lift-and-coast-technique consequently which indicates one of the key factors of a successful race: fuel management. It will be interesting to see, how our second entry will find its way through the race.
#forzateamRSO
---
All live and special insights
During the whole race, we are broadcasting live from the RacingFuel Academy on Cedrik's TwitchTV channel: Ceddy_RSR. You can follow our race backstage but there will be more than "typical" content: We are spicing up the coverage of our race with some great insights and provide you with exclusive stories about our simulators, race strategy, development of SimRacing, historic Le Mans cars and of course you will meet some of our special guests! We are trying our best to carry the emotions and atmosphere of this endurance and opening event to you!
And here is our program for Saturday's livestream:
Time
Program
People
3:30 p.m.
Race Start
Coverage of the first hour
-
4:00 p.m.
RacespotTV - live in the Commentary Booth with Jake Sparey
Jake Sparey, Wil Vincent, Marcel Fässler
5:00 p.m.
The Academy - Walk Around and Impressions
Marcel Fässler, Philipp Schallenberg, Manuel Sudau
7:00 p.m.
Behind the scenes: "rolling into the night" - Spotting, Strategy and Driving
Team RSO
9:00 p.m.
Rennsport Online - Meet the Team
Team RSO
About the RacingFuel Academy
The RacingFuel Academy is the new Swiss gym for racing drivers. No matter if you are a three times Le Mans winner, DTM driver, VLN, driver or any other professional or semi-professional racing driver, the Academy offers many customizable services to improve your driving. You can just spend some time in one of our STAGE1 or STAGE3 simulators and you decide the setup: do you prefer VR-glasses, a triple screen setup or our Samsung curved monitors? Do you prefer our full-motion system including our traction loss or do you want to butt-kick-only? Do you want to drive a Formula, GT or classic wheel or do you even want to drive our drift simulator? It is all up to you! No matter which options you choose, you'll enjoy the best available hardware, including professional pedals and direct drive wheels – all set up and tested by our team and powered by Joule Performance and Samsung.
Of course we are also offering coachings on various aspects of racing: driving techniques and styles, learning new tracks, setting your car up, improving your racing or working on consistency over time. You can book our professional coaches and discuss your personal program with them before you will benefit from their huge experience. Of course you can also only enjoy the cool atmosphere at the Academy: have a chat with our team or drivers, drink or eat something, enjoy a race in our lounge or observe and learn from our drivers.
If you are a SimRacer or SimRacing team and interested in improving your driving, we can also offer you some great knowledge from our SimRacing partners. You can also book our simulators to have your own virtual race against each others while our race control is organizing the event. Furthermore, you can also book and rent our mobile simulators for your customer events or exhibitions. Just contact us or visit our homepage on: www.race-sims.com
The RacingFuel Academy is your professional partner to improve your driving – Happy Motoring!
Visit us any time on August 18th and/or 19th: RacingFuel Academy | Tödistrasse 54 | 8810 Horgen