Grand Opening of the RacingFuel Academy feat. iRacing official 24h of Le Mans
[Zurich] – What a brilliant weekend it was: More than 300 guests from all around real and virtual motorsport visited us during last weekends official opening event in the RacingFuel Academy in Horgen (CH). Enthusiastic driving with one of the many simulators, interesting discussions about racing, some good food and drinks and our team competing in the official iRacing 24 hours of le Mans created a unique atmosphere.
Most of the team arrived in Zurich on Friday morning and immediately our drivers started to adjust, testdrive and adapt to the three STAGE1 simulators in which we raced. Equipped with the best available hardware, the RacingFuel Academy simulators are a benchmark for quality, adjustability, design and clever solutions. Therefore, our drivers "found" their pace from the many training sessions quickly and finalized their stint and strategy planning while BBQ'ing in the evening with a beautiful view over the lake of Zurich. All was set for our race but also for the official opening of the Academy.
Racing, Driving, Smiling: the Open House Days have been absolute fun and an beautiful experience for everyone
Already on Saturday morning, dozens of interested people visited the new training facilities. With a big smile on everyones faces, all the simulators were testdriven. From the "basic" version STAGE1 to the "all-inc" version STAGE3, featuring full motion and a traction loss system, all different kinds of specifications could be tested. We enjoyed all the discussions with our guests. The interest in our race, what and how we do and generally what SimRacing is and can offer, was huge. We could explain many things and share our passion with motivated and interested people. It is nice to experience such high interest and respect. Even more impressive was the atmosphere during the race start.
---
24 hours of Le Mans – Green Flag
At 3.30 p.m. on Saturday the green flag for the 24 hours of Le Mans dropped. RacespotTV's commentator Jake Sparey flew in all along from the UK to Switzerland and was doing his job live from the Academy in his exclusive commentary booth. While he was commentating for the audience, all our guests were following the live braodcast of RacespotTV on a huge TV screen in our puplic viewing area. To hear Jake commentating from the one side, seeing the cheering and emotions of the audience in front of the screen and having both of our drivers in front of us in the simulators on-site, was a unique and super cool experience.
Party Outfit: our two cars had a beautiful special design for the race with SimRacing Observer and RacespotTV logos on them.  However, the Academy had the most prominent placement…of course!
The start of our #198 Ferrari 488 GTE was driven by Nils and Stephan was in the cockpit of our #197 entry. While our car #198 was starting in split 2, its sistercar #197 made it to the topsplit. Both races started calm and respectful, only to increase pace after half an hour into the race. #197 was in a pack of four cars for P11 and spectators could observe many changes of position. When the leader of the pack was sitting out a slowdown penalty, the last car of the train was completely missing its breaking point and we were sandwiched: 2 minutes of repair and a still damaged car with a disadvantage of 1,5 seconds per lap left us unarmed.#198 was hit even worse, when first a spin dropped us back and another spin after one and a half hours came to an hold on track. A following prototype couldn't avoid us and hit our car hard. More than one hour of repair and a strongly damaged car dropped us to the dead end of the field.
Our races could have been better at this point but of course we didn't withdraw. Our #198 was only able to clock in 3 minutes 53.high but our drivers kept fighting. A very special moment came, when our new driver of Rene got behind the wheel and celebrated his debut for Rennsport Online. It was impressive that he could instantly set the quickest times of our lineup and even more how chilled and harmonic communication and strategywork was with him. Rene is a great addition to our team and we are more than happy to have him with us. However, Rene wasn't racing in the Academy but from his home. It was part of our measures to fully respect iRacings additions to the sporting code, referring account sharing. After this years controversial Daytona 24 hours race, iRacing consequently forbids the sharing of one account by multiple drivers, especially during events like ours. Therefore, both teams were supported by one driver who was racing from home and we shared three identically set up simulators with both teams on-site.
Joy, Sweat, Concentration: These impressive pictures show some of the many talents of our drivers. Behind the wheel, on the keyboard, at the command stand, BBQ'ing…here are some wonderful impressions of what a professional 24 hours SimRace is about!
Recovery Drive Deluxe
While we were 100% focussed to regain positions and work our ways up again, our guests could learn about our complex jobs during such an event. From the sheer driving itself, to the work of our strategists and to our communication: many interested questions on specific aspects were asked, much respect and appreciation was given and many impressed faces were a sign for the success of the event. We transfered our passion and could show how professional everything is and almost has to be, to be competitive during such a race. The competitive level of our topsplit race gained a lot of respect – and that is a great compliment for all teams and drivers!
The first open house day was coming to an end and our drivers started to find their rythms. Meanwhile, Mr. Jake Sparey – journalist at SimRacing Observer and Autosport.com and also a professional commentator on SimRacing for V8sonline and RacespotTV – was demonstrating his talent in our commentary box. From the start of the race until 3 a.m. he was telling the stories, our race produced. Often, our guests stopped and observerd his skills in the glass cabin, where he was working. It was interesting and impressive to see, how the voice of SimRacing was performing and putting all his passion into this!
Phil and Christopher, as well as Rene were doing awesome double stints during the late evening and night, especially regarding the handicap of our #198 car. Constantly, they were climbing their way up and had the top 10 in sight when another mistake cost us some repair and a lack of pace. Sitting in P14 with 5 laps back to the leaders, our #198 could only collect what was left behind. After some strong double stints of Stephan and Manuel, our #197 was driven into the night by Cedrik and Nils. Our second new intern is just impressing us more and more right now: after his six-hours solo-performance during the last VLN-round, taking the overall victory, Nils adapted perfectly to our 488 GTE Ferrari. His pace was on the same level as of the others and he was doing zero mistakes on top. Ceddy was showing his well-known skills alongside Nils and at halftime, our #197 was back inside the top 10!
#doyoumind – Mr. Jake Sparey, was doing his job in his own commentary booth…and wearing a RSO-shirt!
---
Nightriders – Through the Dark
The early hours were then challenged by Manuel and Stephan again: both simply continued their comeback fight and showed great pace. Beeing fifth fastest car for many hours, P9 was gained and P8 insight. A close battle for P7 to P10 evolved, with all cars running within 90 seconds. Stephan and Manuel were fastest of these four but strategy got more and more important. While P7 had a virtual 30 seconds advantage over us and anyway a 40 seconds gap advantage, Evolution Racing Team (ERT) in P9 and P10 were close and off-set strategywise. Depening on traffic and pitting cycle, we changed from P10 to P9 and P8 and slowly closing in to P7.
However, P7 was unreachable if not a mistake would cost them more time, as we could only decrease the gap by three thenth per lap with three hours to go and ca. one minute behind. Ceddy then put in a brilliant double stint, increasing our advantage over ERT in P9 and over P10. Finally, Nils took over the wheel for the final hours and to bring P8 home. He did perfectly on that again but ERT went full risk and was closing in quickly. Nils could have been as nervous as possible, regarding the fact that he was in responsibility to save our success in his first teamevent for Rennsport Online with growing pressure from ERT behind.
Showdown in Le Mans – Get your Calculators right
The showdown: Re-watch the final 2 laps of this thrilling finish between Evolution Racing Team and Rennsport Online for P8!
ERT in P9 went in for their final service with 11 laps to go. When we went to pits with 5 laps to go and only splash-n-dashed without taking tyres, ERT was only 9 seconds behind but 2 seconds a lap quicker. Due to unlucky traffic, ERT equaled us with 2 laps to go already and went straight for the overtake on Hunaudières. Despite their quicker pace, Nils showed incredible bravery when he striked back a couple of corners later and passed ERT for P8 on the outside of Indianapolis again – and success! ERT was then following us through the Porsche curves and all was set for the final showdown on the long straights of the Circuit of Le Mans. Surprisingly, ERT was staying behind us and lifted before the first Hunaudières chicane. Hope was rising that they might have miscalculated for one extra lap, as the leading LMP1 stayed behind us, to foto-finish with their sister car. Indeed, ERT had to lift drastically again during the following corners and Nils comfortably brought home, which was a great P8 in the end. Despite our unlucky start into the race, Stephan, Ceddy, Nils and Manuel fought back with incredible patience and in style, to finish with success!
Meanwhile, our #198 car was lucky to collect more and more of their competitors during the last hours of their race, which either crashed out or served penalties for cutting the course and sufferd from off-track-DQs. In the end Phil, Nils, Christopher and René even managed to climb back into the top 10 and made it two top 10 results for Rennsport Online.
Open House Sunday
Already early in the morning at 10 a.m. on Sunday, first guests visited the Academy on the second open house day of the weekend. While our Le Mans race came to a head, the simulators around us got testdriven again and smiling faces were racing behind the wheel. Even more guests than on Saturday came by for a quick drive and learned all about the services. Beside training in the simulators, the RacingFuel Academy offers professional coaching sessions by one of their many choaches. Together with them, you can improve on your driving techniques, learn tracks or new driving styles, work on the setup of your car and many more individually requested lessons. To enjoy the benefits of the Academy there are many flexible offers and you can choose your best matching option. Contact info@racingfuel-academy.com for more information.
When our last guests left, our team and the team of the Academy celebrated their awesome and successful weekend down at the beautiful Lake of Zurich, had a little swim in its moderately tempered waters, a couple of beers and just a great quality-time! When we were concluding over the weekend, one thing was highlighted again and again: The weekend brought together all kind of enthusiastic motorsport people and a lot of knowledge, interest and respect was transfered. Professional racing drivers, semi-professional ones, physiologists, journalists, SimRacing drivers and many Swiss SimRacing teams came to the Academy over the weekend. We met drivers from Sorg Rennsport eSports, SimRC.de, Vib3sports SimRacing, SimRacing Academy and many more. Their great spirit and enthusiasm, their shared joy about our event and their friendliness were overwhelming. We felt like we really merged the world of virtual and real motorsport, at least for one weekend. The passion, emotions and joy were incredible and motivating to keep doing what we do: loving SimRacing and contributing to our sport as much as we can!
#goRSO <3
---
About the RacingFuel Academy
The RacingFuel Academy is the new Swiss gym for racing drivers. No matter if you are a three times Le Mans winner, DTM driver, VLN, driver or any other professional or semi-professional racing driver, the Academy offers many customizable services to improve your driving. You can just spend some time in one of our STAGE1 or STAGE3 simulators and you decide the setup: do you prefer VR-glasses, a triple screen setup or our Samsung curved monitors? Do you prefer our full-motion system including our traction loss or do you want to butt-kick-only? Do you want to drive a Formula, GT or classic wheel or do you even want to drive our drift simulator? It is all up to you! No matter which options you choose, you'll enjoy the best available hardware, including professional pedals and direct drive wheels – all set up and tested by our team and powered by Joule Performance and Samsung.
Of course we are also offering coachings on various aspects of racing: driving techniques and styles, learning new tracks, setting your car up, improving your racing or working on consistency over time. You can book our professional coaches and discuss your personal program with them before you will benefit from their huge experience. Of course you can also only enjoy the cool atmosphere at the Academy: have a chat with our team or drivers, drink or eat something, enjoy a race in our lounge or observe and learn from our drivers.
If you are a SimRacer or SimRacing team and interested in improving your driving, we can also offer you some great knowledge from our SimRacing partners. You can also book our simulators to have your own virtual race against each others while our race control is organizing the event. Furthermore, you can also book and rent our mobile simulators for your customer events or exhibitions. Just contact us or visit our homepage on: www.race-sims.com
The RacingFuel Academy is your professional partner to improve your driving – Happy Motoring!
Visit us: RacingFuel Academy | Tödistrasse 54 | 8810 Horgen
---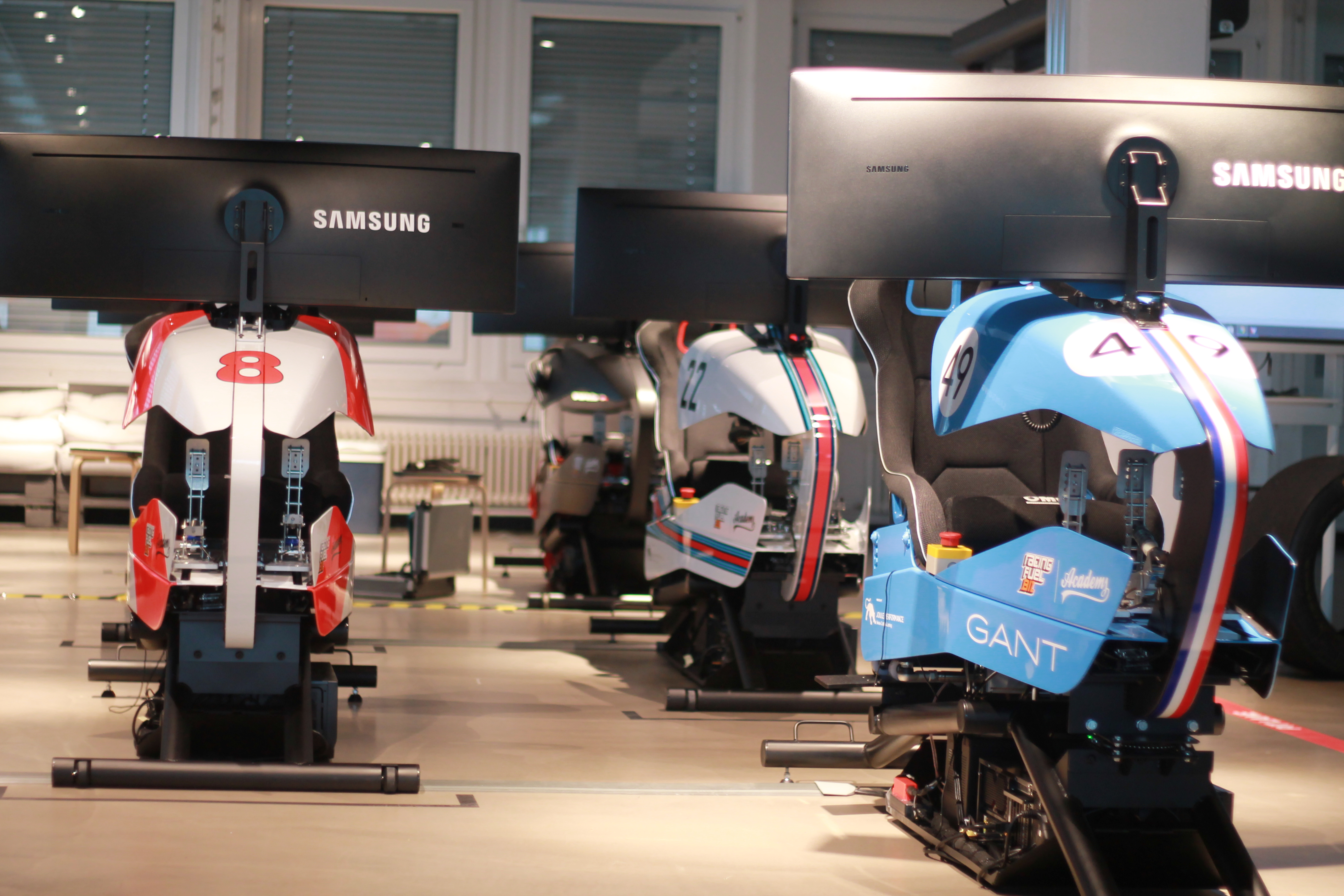 STAGE1 Simulators
The STAGE1 simulators are one of the most professional rigs you can drive right now. Manufactured from solid steel, the chassis is nicely designed and comes with your custom design. Hardware-wise it features Heusinkveld Ultimate pedals and a Leo Bodnar 54 direct drive, controlled by a custom designed steering wheel by Marco Spiller. Our drivers sat behind a Samsung 49″ curved monitor and used a high-end gaming computer by Joule Performance. The seating position is completely adjustable and the butt-kicker-system will support your immerse feeling of driving a real race car. If you want to add motion to your driving you can upgrade the simulator to a STAGE2 or STAGE3 version, including our tracktion-loss system or an additional hydraulic full-motion system. Visit the website of the RacingFuel Academy to learn more about their simulators and services:
www.race-sims.com
---