Rennsport Online – Season Stats
Two years ago CoRe SimRacing launched an absolute top series which established itself to one of the most competitive racing series on the iRacing service: The Sports Car Open (SCO). Based on this great success and their strong experience CoRe now organizes a follow-up series, the SCO GT Series. Five races from April to August 2019 will bring 22 hours of top class endurance racing. The most interesting aspect of SCO GTS is their newly introduced PRO/AM system for GT3 class: Pro class drivers and Amateur drivers are technically racing in the same class (GT3) but fight for two different championships and a second class (Porsche 911 GT3 Cup) will spice up things even more! All races will be broadcasted by Racespot TV and the iRacing eSports Network.
Fahrer:
Angelo
|
Cedrik
|
Nils L.
|
Tino
|
Rene
|
Tobias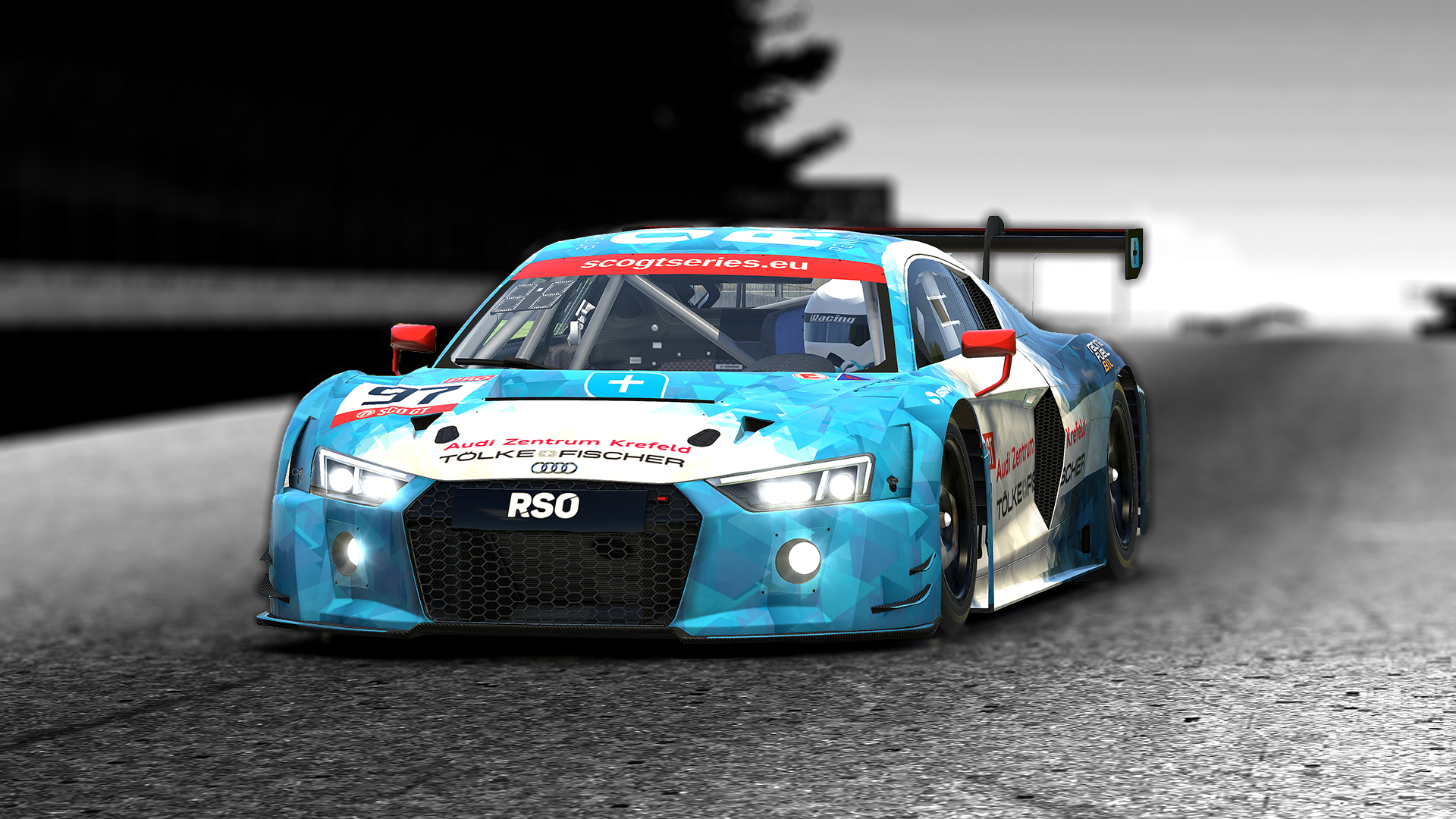 Grabbag in GT3 PRO class
It's going to be an interesting journey for our #97 PRO class entry: Angie, Ceddy, Nils L., Tino, René and Tobi will share duties over the course of the season. As the races are four respectively six hours long, each weekend will feature a maximum of two or three drivers. Therefore, we might see five different lineups over the season which makes it difficult to define any expectations. However, it will be interesting how our #97 Audi RSO8 LMS GT3 will show off. In a field full of top class opponents, like Biela Racing Team, Torrent Motorsport, Radicals Online or Williams JIM Esports we'll have to show five troublefree races to compete for more than individual race success, but we are very confident to set some highlights and sure, we'll enjoy the racing!
Fahrer:
Nils C.
|
Manuel W.
|
Stephan
|
Manuel S.
|
Patrick
|
Markus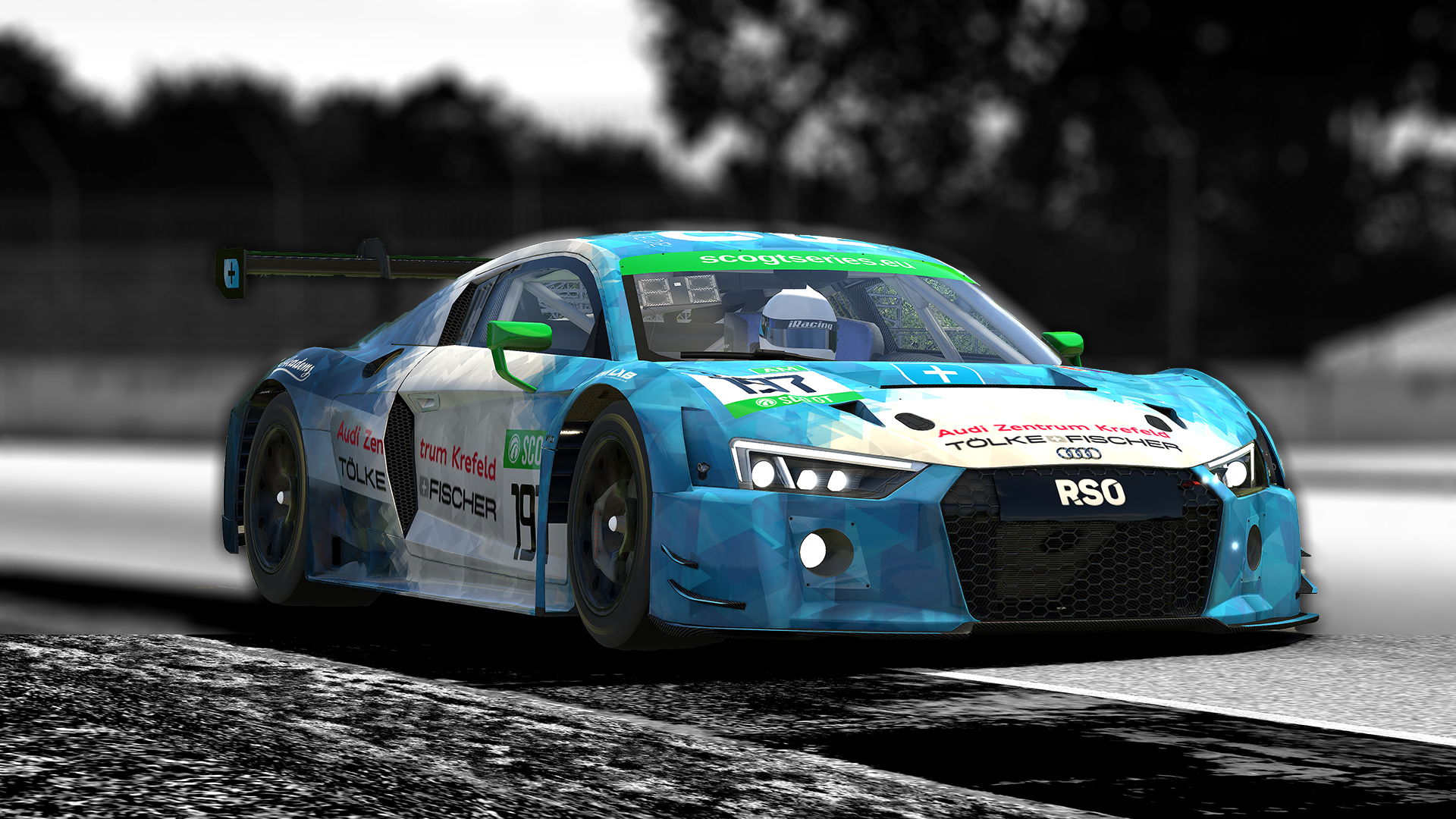 Are you amateur enough?
The second RSO entry will compete in SCO's AM category and might be a car to watch. With Manuel², Stephan, Nils C., Patrick and Markus sharing the wheel over the season, our lineup for the #197 car is just enough to sign up in AM category. When it comes down to validate possible championship ambitions, on the first sight one would count #197 into the ambit of hopeful candidates. But there is one important factor spicing up all these predictions: PRO and AM category are racing in the same class and will be mixed. This might give every slight mistake and every outstanding performance more weight than usual. Furthermore, AM category is not as amateur as it seems to be, with teams like Geodesic Racing, Vib3sports or Huber Racing entering competition, too.
---
Saison progress and results
Season progress
4h of Road America
4h of Imola
4h of Philipp Island
4h of Donnington Park
6h of the Oak Tree
Q - GT3 / Class
R - GT3 / Class
Q - GT3 / Class
R - GT3 / Class
Q - GT3 / Class
R - GT3 / Class
Q - GT3 / Class
R - GT3 / Class
Q - GT3 / Class
R - GT3 / Class
#97 - Pro
9 / 8
22 / 12
17 / 14
7/7
11/8
18/11
#197 - Am
8 / 1
6 / 1
12 / 2
11/2
14/5
13/5
Sports Car Open GT Series – Round 1

[Playmouth, WI] – Ups and downs during the first round of the all new Sports Car Open GT Series at Road America: While our #97-PRO got unluckily involved in the start chaos, our #197-AM car finished P6 overall and took home what was a dominant win in Amateurclass!

A nervous start into the four hours season opener caused early trouble for the amzingly competitive field of 48 cars. After a satisfying qualifying performance, #197 started in P8 overall with its #97 sister car sitting behind in P9. A touch between the Radicals Online and Williams JIM Ξsports cars sent the Radicals car across the track during the start, hitting our #97 after only a couple of corners. That dropped our PRO-class entry far back.

Meanwhile our #197 car with Manuel behind the wheel showed good pace and moved forward to P5 overall. In a thrilling and clean fight with Satellite Racing, Racekraft Engineering and Williams JIM Ξsports positions changed multiple times and over the progress of the race, Stephan and Manuel secured P6. Ceddy and Nils fought back with their damaged #97 car to a good P22 overall and P12 in class, which is some points for the PRO-standings at least. Despite unlucky #97, P6 overall and a clean AM-class win are an awesome result for our #197. We can't wait for round two of this great series, end of May. The SCOGT teams will then head to beautiful Autodromo Enzo e Dino Ferrari di Imola for the 4 hours of Imola.

Sports Car Open GT Series – Round 2
[Imola, IT] – Wow, that was a though race! After a medium qualifying our cars started outside the top 10, but our #97 come home in P7 while our #197 managed to recover from a heavy crash to secure P11 overall and P2 in class!
During qualifying, Manuel W. showed a decent pace and qualified P12 overall and P2 in class. Our PRO class contender struggled a bit and only started P17. After a respectful start, race heated up after 20 minutes and drivers became racy. After a nice start our #197 was battling clean and competitive versus Torrent Motorsports and both entertained the audience well. Our #97 was sitting right behind and both RSO cars worked their way further up the field.
At halftime both cars established well inside the top 10. Different to some teams, both our cars opted to doublestint their tyres and gained more spots. When Ceddy and Stephan switched into the car, both circulated cleanly arount the Autodromo Enzo e Dino Ferrari di Imola, sitting in P6 and P7. #197 was in a tensioning battle for the AM class lead when a lapped Porsche turned into our car and crashed us off track. With heavy damage, Stephan continued his drive anyway and recovered well. In the end, he came home just outside the top 10 on P11 but also on a great P2 in AM class. Meanhwile Ceddy showed a great drive, enjoyed a tough battle with Williams JIM Ξsports and finished on a good P7 overall! With that result, #97 made up good ground in the SCO GTS standings while #197 cements its lead in the AM category!.

About the SCO GT Series
The 4 hours of Road America will kick-off the premier SCO GT Series season by April 27th. The season will continue with the 4 hours of Imola on May 25th and will then continue it's tour with the 4 hours race of Philipp Island on June 29th. Round four will be held on July 27th with the 4 hours of Donnington before the grand finale will last 6 hours and take us to the not so well-known Virgina International Raceway.
---
Even though, the SCO GT Series heads into its premier season, it can be expected to be a top class competition. With all their experience from organizing professional SimRacing leagues, CoRe SimRacing will now offer a quite unique concept. Two classes and one of them further divided with the PRO/AM system will contribute to some exciting races. The slowest class offers the Porsche 911 GT3 Cup car; the choice of the official iRacing World Cup car promises close racing. The GT3 class will give teams the choice on any of the iRacing GT3 cars, with Rennsport Online opting for the Audi RSO8 LMS GT3. However, GT3 class will see PRO and Amateur racing. AM teams require to sign in with drivers who never exceeded the limit of 5.000 iRating at any point in their career. Hence, this series will also give some nice indicators on how representative iRating really is but also give a fair chance for everyone to realisticly fight for a championship. For sure, SCO GT series season one is a promise already. Let's get it on! For more information, visit the official homepage of the SCO GT series: www.scogtseries.eu