Rennsport Online – Season Stats
For the first time in our teams history, we qualified for one of the best privately hosted endurance series: proud to be invited by the International Virtual Racing Association, Rennsport Online will compete in the IVRA Endurance Series 2020/21! The famous series (formerly known as DGFX) features some of the world's best SimRacing teams and drivers and especially defines new standards in organizing and conducting the series! Live stewarding, safety car periods and a very uncommon race calendar with many interesting but challenging tracks, make up for a thrilling season!
Fahrer:
Luca
|
Manuel S.
|
Cedrik
|
Nils B.
|
Angelo
|
Tino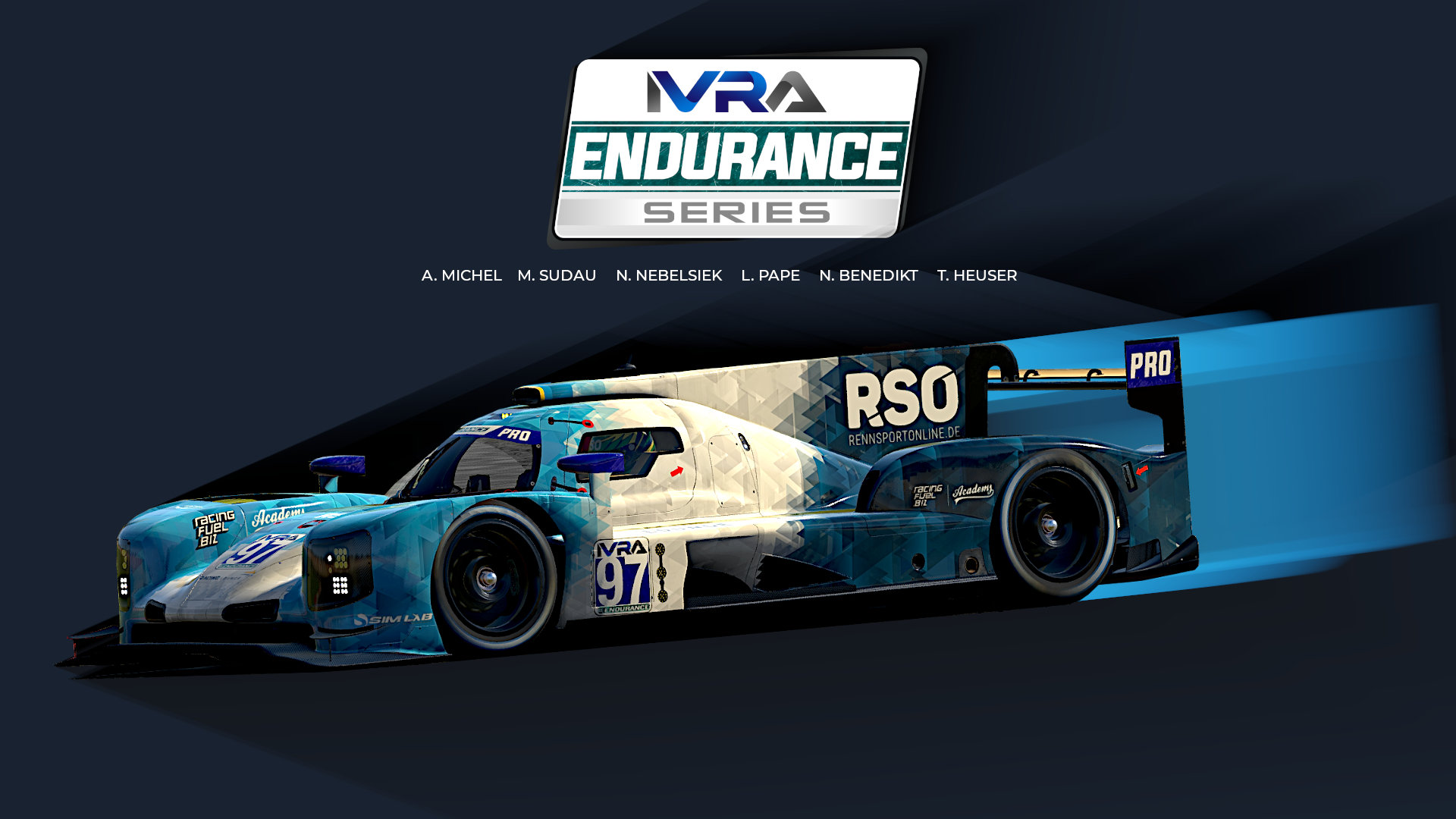 Saison progress and results
Season progress
12h of Spa-Francorchamps
4h of Phillip Island
2.75h of Barber
4h of Mid-Ohio
5h of Virginia
6h of Imoa
10h of Motegi
Quali
Race
Quali
Race
Quali
Race
Quali
Race
Quali
Race
Quali
Race
Quali
Race
#97- LMP2 PRO
9
4
2
1
1
12
7
3
1
2
1
12
2
1
High Downforce Machine
It's going to be an interesting journey for our #97 PRO class entry: Luca, Manuel S. Ceddy, Nils B. and Angelo will share duties over the course of the season. Two different car classes (LMP2 prototypes & GTE cars), each further segregated into a PRO and AM category, will guarantee stunning and thrilling multiclass endurance racing over the course of season, which features seven rounds and a total of 44 hours of racing! We are looking forward to enjoy the battles with well-regarded top teams like Torque Freak Racing, Hellracers, Alpinestars Geodesic, Kinetic Racing, Team Heusinkveld, Puresims eSports, Fiercely Forward or RLR Abruzzi! For our drivers, this season will be very challenging and we will gain valuable experience with our #97 Dallara P217 LMP2. The still quite new car is very sensitive to setup and we have to learn a lot, still. Also, the very complex and realistic regulations will force our strategy board and drivers for a perfect overview on the race at any time and we'll need the best of teamwork to impress!
---
About the IVRA Endurance Series
The 12 hours of Spa-Francorchamps will kick-off the IVRA Endurance League season by October 10th. The season will continue with the 4 hours of Phillip Island on November 7th and will then continue it's tour with the 2.75 hours race of Barber Motorsports Park on December 13th. Round four will be held on January 16th with the 4 hours of Mid-Ohio,to be followed by the 5 hours of Virginia International Raceway on Feburary 20th 2021, the sixth round with the 6 hours of Imola on March 20th 2021 and the grand finale with the 10 hours of Motegi on April 10th 2021. IVRA stands representative for top level racing, it can be expected to be a top class competition from what we learned during pre-qualifying. With all their experience from organizing professional SimRacing leagues, IVRA offers super realistic racing especially.
Their live race control is not only judging the race action, RC also controls safety car periods in case of crashes and thus, manages the whole field in perfect discipline. These great details need more complex race strategies and holds a certain dynamic for our race engineers as well, they have to anticipate and control. Two classes will contribute to some exciting races, both segregated into a PRO and AM category. The slowest class offers the GTE cars like Ferrari 488 GTE, Corvette C8.R GTE or BMW M8 GTE. Rennsport Online will compete in the fastest of the two classes, piloting the brand new Dallara P217 LMP2 prototype. The car's release was about 4 weeks prior to the start of the season and the very high-tech prototype still hide many secrets in setting up the car and we have to learn a lot, still. However, that's what we are here for: challenges, hard work and dedication! For more information, visit the official homepage of the IVRA Endurance Series: https://ivraleague.com
© official IVRA League Logo, 2020